I am not surprised that so many  musicians return to the Verbier Festival year after year. The top soloists probably don't get paid as much as they normally would get for a concert, but the real carrot is that they get to stay in a very comfortable chalet for a week, sometimes even two.  The south oriented terrace (at 1500 metres) that Verbier lies on offers magnificent views; on a clear day all the way to the Mont Blanc Massif. Soloists and conductors are also encouraged to bring their family. A soloist on tour leads quite a lonely existence and normally there is very little time for socialising.  But Verbier is not  like any ol' festival.  The focus here is not only on the concerts for the general public. Another important aspect is the Academy (see previous blog) which nurtures young musicians. There are daily  masterclasses (open to the public) and a lot of music-making, some of it impromptu.
Verbier is one of the few festivals that gives young musicians  a chance to be on a stage with some of the world's very best classical musicians. Festivalgoers can here also feel closer to the stars. Every day there is an opportunity to hear a world class musician perform in a very intimate setting.  This week you could have experienced Janine Jansen, Nikolai Lugansky or Joshua Bell perform in a modernish church  with seating for no more than 350 people.  Top soloists are also encouraged to form temporary quartets , quintets or sextets that,  if they were rock musicians, would be classified as 'supergroups'. But it is not all strictly classical that is on offer. The bass-baritone Thomas Quasthoff  visits with his trio presenting a programme consisting of jazz standards from the American songbook. Quasthoff has also been very busy giving master classes. The Chucho Valdés Quartet promises this Friday to turn the large Salle des Combins into a Cuban dance fest.
This year is the 24th edition of the festival and it is now a long established tradition that after every evening a different chalet owner welcomes the performers into his/her home after the concerts. These get- togethers, I am told, can be very fruitful and on top of that some of the premises are stunning. This kind of hospitality is another factor that makes the Verbier Festival so attractive for the performers.
We are now in the last week of the festival but 'it ain't over till the fat lady sings'. The seemingly endless stream of well-known artists continues until Sunday August 6. On Sunday opera stars of the future (some of them already professional)  get to perform Tchaikovsky's opera  Eugen Onegin together with the Verbier Festival Junior Orchestra in front of a large audience.  This year there are quite a few Russian singers. The young Russian  Stanislav Kochanovsky conducts and he is already is in great demand by opera houses and symphony orchestras all over the world. That same evening the Festival's final concert with the Verbier Festival Orchestra will be led by another Russian, Michael Pletnev.  We can look forward to Tchaikovsky's symphony no.4 and his  violin concerto with Janine Jansen as soloist. Could it be that after this Slavic onslaught we will get an announcement about who will take over from Charles Dutoit as music director of the Verbier Festival Orchestra? After eight years Dutoit passes on the baton and if the rumours are to be believed Valery Gergiev  will take over the directorship.  I think he would  feel at home in Verbier; quite a few of his countrymen already own chalets in this very exclusive holiday resort.
The incredibly talented young Swede Daniel Lozakovich performed Max Bruch's first violin concerto on Tuesday 25 July. Daniel started playing  10 years ago, which means that he is still only 16 years old. He is currently the youngest artist signed to Deutsche Gramm-ophon, but since that deal was done a year ago no record has been announced. I think I know the reason why. Daniel produces a lovely warm sound with quite a lot of vibrato. His interpretation of the Bruch concerto was very warm-hearted, but there was a lack of spontaneity, contrast and also pace. This sounded like a warhorse not quite prepared for battle. I do hope this precocious talent is not pushed too early into playing things that he can't quite master.
The Israeli conductor Lahav Shani (27) is also relatively young but musically surprisingly mature. He studied in Tel Aviv and Berlin and was later mentored by Daniel Barenboim. This was the first time I saw Shani in action and I immediately liked his rapport with the Verbier Festival Chamber Orchestra. They responded well to his elaborate, but very expressive arm gestures in the Bruch and did even better in Schubert's 'Great' No.9. Shani conducted without a score, just like Barenboim likes to do, and the two screens on each side of the stage gave the audience a closer and frontal view of the kinship between the conductor and the musicians. Expect to see much more of this young man who is also a fine pianist. In 2018 Lahav Shani becomes the chief conductor of the Rotterdam Philharmonic Orchestra, a position Valery Gergiev held between 1995-2008.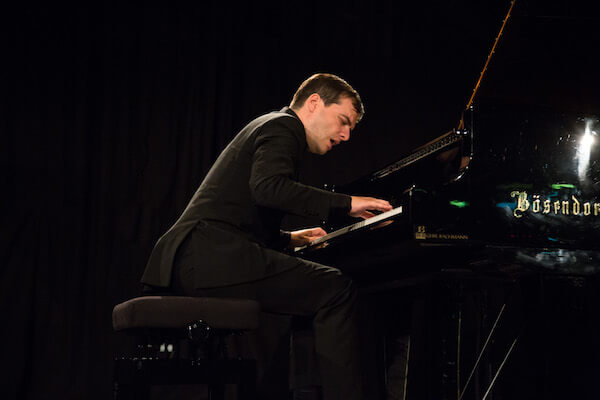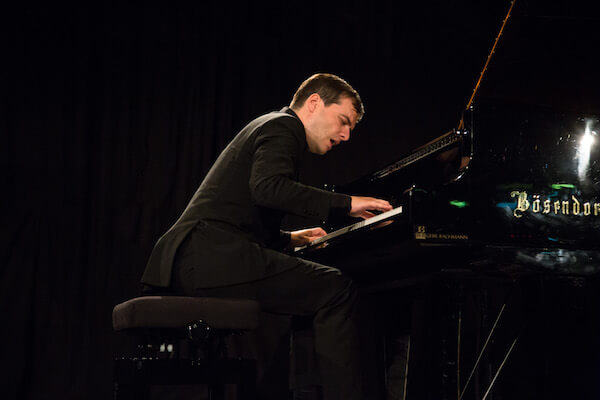 In the Église I saw The Swiss pianist Francesco Piemontesi (34) who has been on the radar of music critics ever since he was a BBC Radio 3 New Generation Artist. He is always praised for "intellectual rigour". If that means that he isn't very showy I would agree. His rendition of Mozart's Sonata in C major, K330 was a little bit too crisp for my liking. But when he tackled Liszt's Saint Français de Paule marchant sur les flots he didn't hold back and showed that he can do flashy as well. Piemontesi is a very apt Schubert (Sonata no.20 in A) interpreter, with a preference for the composer's last sonatas. But the pianist was particularly impressive in three Debussy preludes. Coming after the Liszt pieces you could clearly hear Debussy's source and inspiration. Piemontesi is great for clarity, virtuosity and colour, but mystery is not his thing. This was my first meeting with Piemontesi, but I will keep an eye on him.
his concert and many others from the Verbier Festival 2017 you can find on Medici.tv. The festival continues until August 6.