Verbier Festival  visited 25-28 July, 2017
Verbier in the south-western Swiss Alps offers pretty awesome views. The village, which during the high season turns into a town, lies at about 1500 metres.  But if it is truly spectacular panoramas you're after you have to take the cable car up to Mont Fort (3,328 m). This is where Verbier basks in the glory of a whole host of legendary peaks in both Switzerland and France. Admittedly the skies have to be clear and the highest tops of the Mont Blanc massif are quite often  shrouded in clouds. all the more reason to concentrate on the music on offer down in town.
In July and August well over 100 talented young musicians, picked from all over the world, gather here for three weeks to scale the heights of professional musicianship. They come to learn from some of the top soloists and conductors that perform during the 17 days that the Verbier Festival lasts. There are three different  festival orchestras and they all consist of musicians that are studying at the summer academy. But the soloists and conductors are either up-and-coming, well-established, or very famous classical musicians.
Evgeny Kissin qualifies in that last category. He has recently signed a new contract with Deutsche Grammophon and will soon release a double CD with live recordings of five Beethoven sonatas and the once popular 32 Variations in C minor, WoO 80. Kissin only started to perform and record works by Beethoven 20 years ago and up until recently he didn't feel ready to present sonata no.29 in B-flat major, op.106 in front of a live audience. We are talking Beethoven's Hammerklavier which technically is probably his most challenging work for piano. On top of that the third, Adagio sostenuto,  movement should come with a level of visionary clarity that can rarely be achieved by young interpreters. Kissin (45) is no longer  young,  probably to his great relief, but he already entered the pianist's hall of fame back in the 80s. He doesn't have all that much to prove, although he could do with widening his repertoire if he wanted to set himself a challenge.  But he is already so outstanding at what he does perform, that there can be no living pianist that attracts more top level colleagues to their concerts. In Verbier I spotted  the American pianist Richard Goode, but I am sure there were a couple of others among the 1,600 people in the audience.
Kissin likes coming to Verbier and a number of his recitals from previous festivals are available on the classical music channel Medici.tv  and others have been released on CD.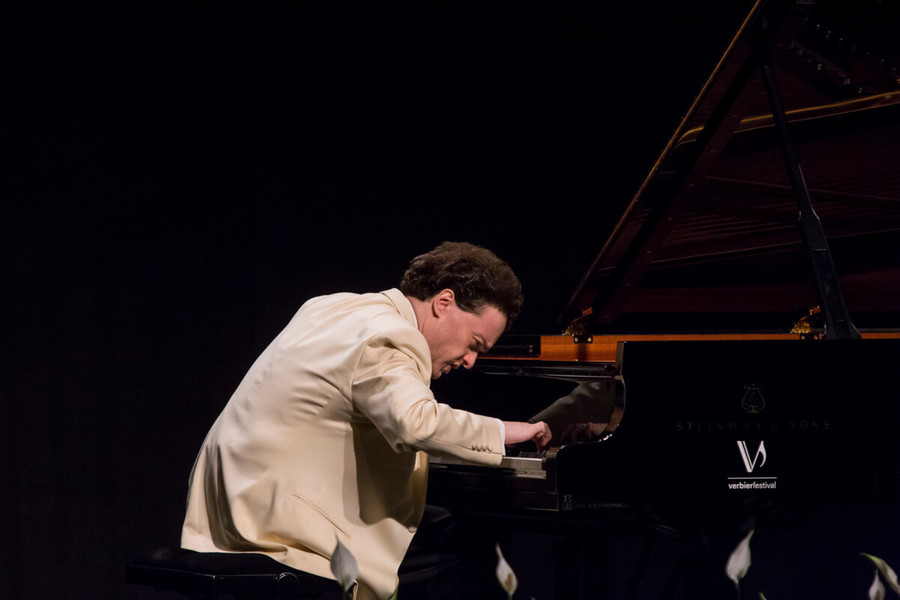 Kissin is technically one of the technically most accomplished pianists on the planet, but in the past he has been accused of not matching skills with heart. After hearing this terrific performance of the piano sonata in B flat, op. 106 I doubt that anyone could doubt his emotional input. The first movement Allegro he took on with gusto and almost frenetic speed, without being reckless. It almost sounded like Kissin was trying to stick to Beethoven's impossibly fast metronome marking of 138, but after a while he settled as he set out to develop the fairly simple idea of the opening theme into some very complex structures. It was absolutely riveting stuff, but on the edge of sanity. The Scherzo gave some relief and actually sounded playful, or was it sarcastic? The Adagio sostenuto was, as one would expect, searching and at the same time transcendental and completely serene. The transitional Largo was elegant and formed a stark contrast to the inevitable fury of the three-voice fugue of the Allegro-risoluto. Kissin's interpretation made me more than ever realise that Beethoven, obviously with hindsight, here achieved baroque on the cusp of 20th century modernism. This is virtually Bach with added total abandon. Among the dissonances and rhythmic clashes there is still time for cantabile passages. It is as if Beethoven was saying: " It's OK, I am in control, just needed to get that out of the system". And yes, Evgeny Kissin was in total control and yes, he nailed the sonata, without hammering it.
Kissin loves his Chopin, a fact that is pretty obvious when you look at all the recordings he has ever made. Strangely enough Kissin has not really touched Bach's works (I would love to hear his Goldberg Variations!). Rachmaninoff's preludes are inspired by both Bach and Chopin and they are in Kissin's (and most major Russian pianist's) DNA. In the second half of the concert Kissin played half of Rachmaninoff's preludes repertoire ( 24  were published during his lifetime).  Rachmaninoff hated playing Prelude Op.3 in C sharp minor ( but audiences demanded it). Kissin adores showing it off, without being asked. The with doom-laden pedaling never gets in the way of total clarity. How he manages to play the Rachmaninoff encore favourite Prelude in G minor (Op.23 No.5) without banging this noble chordophone only he and God knows (compare with Lang Lang, for instance). Kissin played as much on emotional strings, particularly in the opus 32 preludes, as he displayed his immaculate technique. He  doesn't seem to do bum notes. Kissin gave us three encores: a Beethoven bagatelle, a Scriabin etude (in C sharp minor, op.2) and his very own Toccata proved that this Russian/Israeli/ British could have been an excellent jazz pianist as well, but as career choices go I think he probably made a wise choice.