Seen July 21, 2017  in Holland Park, London
Leoš Janáček's obsession with a woman almost 40 years his junior can seem very unattractive on paper. But Kamila Stösslová didn't seem to care much one way or another. And Janáček's (unrequited?) love spawned yet another operatic masterpiece, Kát'a Kabanová.

Janáček dedicated the work to Kamila but it was his own long-suffering wife who really deserved a dedication. Fair enough, Kamila was Leoš' latest muse and the composer was already living apart from his wife Zdenka (but they were not divorced).  Zdenka had after the death of their daughter Olga endured her husband's open affair with the soprano that sang Kostelnička in the Prague premiere of Jenůfa. Zdenka even attempted suicide, but failed unlike Kabanová in the opera. In the end Zdenka and Leoš sorted out a financial arrangement which stopped short at divorce, which would have been considered scandalous, just as it is in Kát'a Kabanová.
Janáček found the 25 year old Kamila while holidaying in 1917 in the spa resort Luhacovice. She had very little interest in highfalutin culture and when they were introduced she didn't have a clue who the famous composer was. Janáček was straight away smitten and would have hoped that Kamila responded to his advances like Kabanová does when she is seduced by Boris in the opera. But  initially Kamila was not particularly excited by the 63-year old.  She had no reason to,  because she was happily married with two children. The first ten years of the friendship Kamila rarely responded to  Janáček's unyielding stream of love letters (some 700 have survived). In 1927 the relationship became closer, but exactly to what extent the intimacy stretched is not known. One thing is for certain, Kamila remained the composer's muse and it is perhaps significant that she was at Janáček's side when he died in 1928.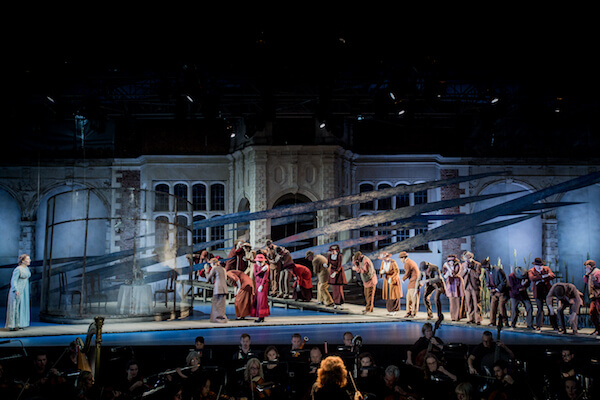 Janáček was a Russophile, visited Russia (where his brother lived) a number of times, spoke the language and read all the classic Russian authors. He even started a Russian Circle in his home town of Brno. Kát'a Kabanová is based on Alexander Ostrovsky's very popular play The Storm (1859). The libretto is Janáček's own adaptation and he stuck pretty much to the text, but had to make fairly significant cuts.
REVIEW                                                                                                                              Four out of six scenes take place on the banks of the Volga in a small provincial town far removed from the urban sophistication of Moscow. The Moscovite Boris has fallen in love with Káterina (Kát'a) Kabanová, who is in a childless and loveless marriage that she needs to escape. She also has to get away from her oppressive mother-in-law Kabanicha. Kát'a's impotent husband Tichon is browbeaten by his own mother (Kabanicha) and it is no wonder that he tries to find solace in the demon drink.                                                                                              I can't say that I was aware of the Swedish soprano Julia Sporsén previously, but after hearing her sing Kát'a Kabanová rest assured that we will see a lot more of her in the future. Sporsén's fellow countrywoman Elisabeth Söderström set the musical benchmark (well, at least outside Czechoslovakia) back in the 70s, but Sporsén is already not far off that mark. In Act 1, scene 2 Kát'a reminisces about her carefree life before marriage, her happy memories going to church and feeling like she was flying with "invisible voices singing everywhere". She then confesses to Varvara that she is in love with another man (Boris) but she feels deeply ashamed of her sinful thoughts. This is a key scene and Sporsén is radiant portraying a woman on the verge of a breakdown. "Like standing on the edge of a cliff", she sings with a well supported and clear voice. The music glows quietly "like great golden cathedrals".                                      Designer Yannis Thavoris has been inspired by Kabanová's wish to fly away and he has constructed a living room with walls that look like an aviary.                                                                                                     Kabanicha, ably sung by Anne Mason, sends away her son Tichon on a business trip. The hypocritical Kabanicha then receives her lover, the oafish merchant Dikój, who happens to be Boris's uncle. Menwhile Varvara, sung impressively by Clare Presland, arranges a secret meeting between Kát'a and Boris in the garden. Varvara takes the opportunity to meet her beau, the schoolteacher Kudrjaš.
Janáček made sure that there is a clear distinction in the music that accompanies these three pairs of lovers. But there is no doubt that the title role dominates the whole opera. Nicky Spence as the downtrodden Tichon tries bravely to make more of his role than the two-dimensional character that it really is. Spence is by now a Janáček veteran (see my review of Grange Park Opera's Jenůfa in which Spence was an excellent Števa). Peter Hoare has sung Laca in various productions of Jenůfa (including Grange Park) and his lyrical voice is ideally suited for the role of the meekish Boris.
In Act 3 we return to the banks of the Volga where a crowd of people are seeking shelter from a storm. Kudrjaš explains that a lightning conductor could help divert the danger, but Dikój is convinced that storms are punishments from the Almighty. In this play/opera the old world's values, superstitions and old wives' tales still hold sway. When the storm clears Varvara finds Boris to tell him that Tichon has returned and hence Kát'a's mental state is deteriorating. Whereupon Kát'a rushes in like a madwoman and Varvara can't stop her from telling Tichon and Kabanová about her sins. This confessional scene is kept fairly straightforward (without too many semi-religious overtones) in Olivia Fuchs's effective production. The focus in the third act is completely onKát'a.  Sporsén's searing voice makes the nervous excitement (OK, hysteria) perfectly believable and Kabanová's suicide hardly comes as a surprise.
Director Olivia Fuchs makes good use of the chorus for a number of tableaux vivant (the chorus only really sings and hums in the third act). The wooden gangplanks across the water make it difficult for people to pass and this perhaps reflects the narrow-mindedness of the town's bourgeoisie.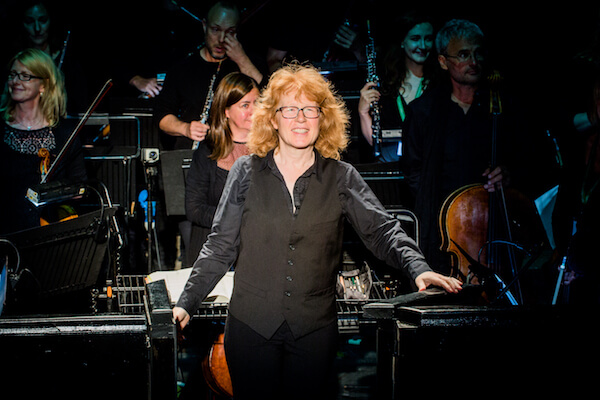 Mother Volga is a constant (even psychological) force in the opera and is also present in the music, to start with in the overture and finally in the chorus intoning the Volga's "sighing".                                 What I particularly like about the temporary set-up in Holland Park is that the orchestra pit is not half hidden and both the conductor and orchestra are always clearly visible . As a consequence you watch the conductor and the musicians much more than you would in a more conventional opera house. Sian Edwards has a total grip on this score. She beautifully coaxes out the Sibelian, even Straussian Janáček in the overture and interludes. He was not as brilliant an orchestrator as the mentioned colleagues, but the lyrical flow in this opera is equaled by few of his contemporaries (and Sibelius of course never composed a real opera). The City of London Sinfonia effortlessly negotiated the emotional swings.
All in all this is a very worthwhile revival.
Tickets are still available for both 26 and 28 July.