Jenůfa by Leoš Janáček, seen July  2017  Grange Park Opera, Theatre in the Woods at West Horsley Place.

Janáček's associated his opera Jenůfa with both the death of his young son Vladimir and the slow and tortuous illness that took his daughter Olga away from him.  Jenůfa was his third opera and it took ten years to complete, but at least he managed to finish the piano score and play it to Olga as she lay dying. She loved it and the work was dedicated to her. She was buried with the last page of the score.
Jenůfa is Janáček's  masterpiece, but its triumph on the world's great opera stages was by no means immediate. After the premiere in the composer's hometown Brno in 1904 it took 12 years for the work to be put on in Prague.  It was only then that it started to get universal acclaim. But for Janáček it still must have been quite frustrating because the Prague version had been revised and orchestrated by the National Theatre's music director. Consequently it was this heavily edited version that was played all over the world until the 1980s. Nowadays only the original is performed.
The original play, Její pastorkyňa (which means Her Stepdaughter  in Czech), that Jenůfa is based on is by the Bohemian writer Gabrieala Preissova. This village drama's subject matter clearly offended many within the (nationalistic) cultural establishment. Preissova was a promising  dramatist and she had initially been encouraged to write Her Stepdaughter (which was renamed Jenůfa when it was introduced in Germany) by the National Theatre in Prague.  But it only survived for a few performances, before the subject matter was considered to be too controversial and the play was dropped.
Janáček on the other hand was fascinated and he understood that the time for naturalism in opera had arrived. Debussy (Pelléas et Mélisande), Puccini (Madama Butterfly) and Richard Strauss (Elektra) were at the same time trying to create characters that had real psychological depth and used language that was not particularly poetic. Janáček adapted Preissova's text himself by cutting almost a third and adding some more Moravian dialect and speech patterns. He focused very much on speech melody and this is why words and sentences are so often repeated in this work. Jenůfa became the first Czech opera set in prose instead of verse.
THE PLOT  Jenůfa is Kostelnička Buryjovka 's adopted child. Hence the original title of the play Her Stepdaughter ( it can also mean Her Foster-daughter in Czech) which also indicates that Kostelnička, or the sextoness, is as much of a principal character as Jenůfa. At the start of the opera Jenůfa is already pregnant with her cousin Števa Buryja's child but she has managed to keep it secret, although Števa's jealous stepbrother Laca is suspicious.  The problem is that Laca is also in love with Jenůfa.  Števa is relieved that he hasn't been drafted into the army and is celebrating by drinking himself into a stupor. Laca senses an opportunity, but is turned down once more and out of jealousy disfigures Jenůfa's face with a knife.
It is impossible to understand how the different characters are related to each other without consulting a family tree, which luckily the programme provides.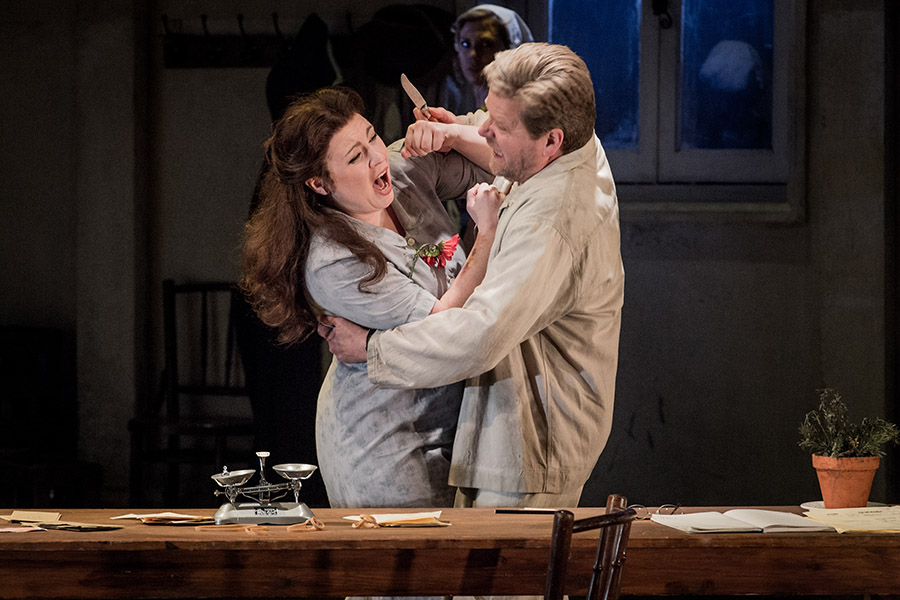 It is in the second act that real drama unfolds. We find out why Kostelnička is being such a killjoy and control freak. Five months have passed and Jenůfa has just had her baby. But Kostelnička has stopped Jenůfa from marrying  Števa and he has now fallen in love with another woman and is unaware that Jenůfa has had his child.  Kostelnička is so eager to protect Jenůfa because Števa reminds her too much of her own husband ( Števa's uncle) who mistreated her badly. Kostelnička's way of dealing with the problems is shocking: she drowns  the baby arguing that he resembles Števa. She also knows that it will be easier to re-marry without the shame of having to deal with an illegitimate child. When Jenůfa  finds out what has happened she fist reacts as you would expect but then seems willing to accept that this is the will of God. By the end of the act she has even consented to marry Laca.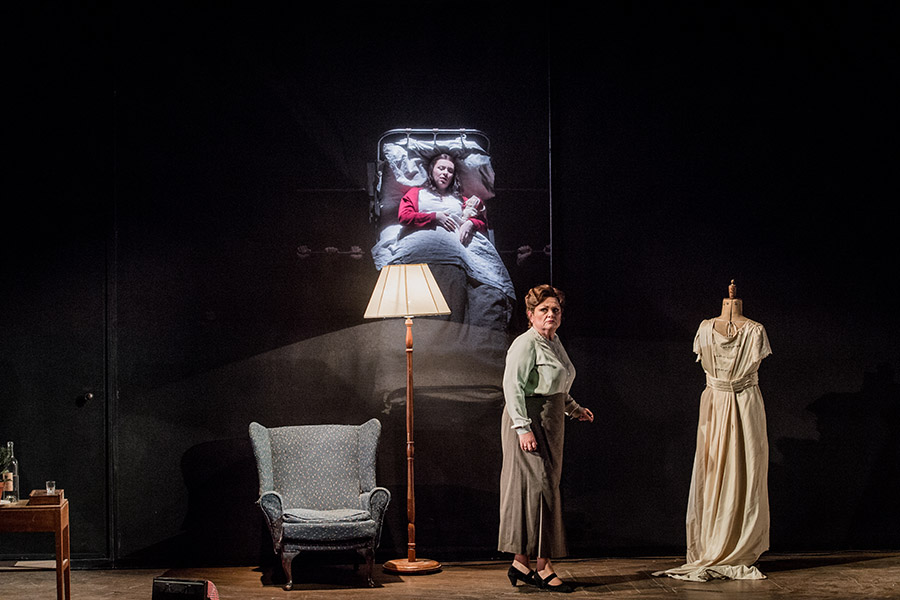 In the third act everyone is getting ready for the wedding. Even Števa and his fiancée are in attendance. But just when everybody is about to go off to church a girl storms in with the news that the winter ice has broken up and the body of a baby that was stuck underneath the ice in the stream has just been found. Jenůfa  immediately recognises her child's clothes. Thinking that she drowned her baby the crowd turns on her, but to everyone's surprise Kostelnička confesses to murder. Incredibly she is forgiven by Jenůfa because she meant well. Laca doesn't take up the offer to leave Jenůfa. No, he will stick with her and start a new life.
REVIEW Director Katie Mitchell has picked up on the claustrophobic element of the play. She sets all three acts in quite cramped rooms. The first act is normally staged outsid, near the mill, which Števa now owns. This is a place where the people of the village naturally gather. The xylophone, which is heard on a number of occasions in the first act, is probably meant to suggest the spinning mill wheel. Mitchell also pretty much ignores the symbolism, which perhaps is quite obvious, and the religious element of the libretto. For a UK production those are not great losses. The (revival) director has probably stressed the psychological aspects of the characters and the acting is throughout very strong. In a 'naturalistic' opera like this all the characters have to be believable. The Welsh Natalya Romaniw as Jenůfa  has a great stillness on stage, but perhaps we could feel her anxiety a little bit more in the first act and I believe she could be encouraged to take more risks  Romaniw's voice is focused and never less than impressive. I would say that she is now ready for the big opera houses. Both Števa (Nicky Spence) and Laca (Peter Hoare) are strong performers. Hoare's tenor voice is full of sweetness when he tries to persuade Jenůfa to marry him. It is not an easy role to pull off in a believable way but Hoare does it. The heart and soul of this opera is without a doubt Kostelnička and Susan Bullock is equal to the challenge. In the first act she is the hard-hearted woman and in the second act her ruthlessness and strength come to the fore. Bullock portrays a no-nonsense woman who genuinely believes that she is helping Jenůfa by manipulating her love-life and drowning the baby. It is chilling but Bullock also shows the human core at the centre of the character. But it is difficult to understand her totally misguided thought process. Bullock is not over-dramatic in the crucial second act and keeps it all fairly straightforward. She is perhaps all the more frightening for that very reason. Yes, Bullock really helps to make this a memorable production.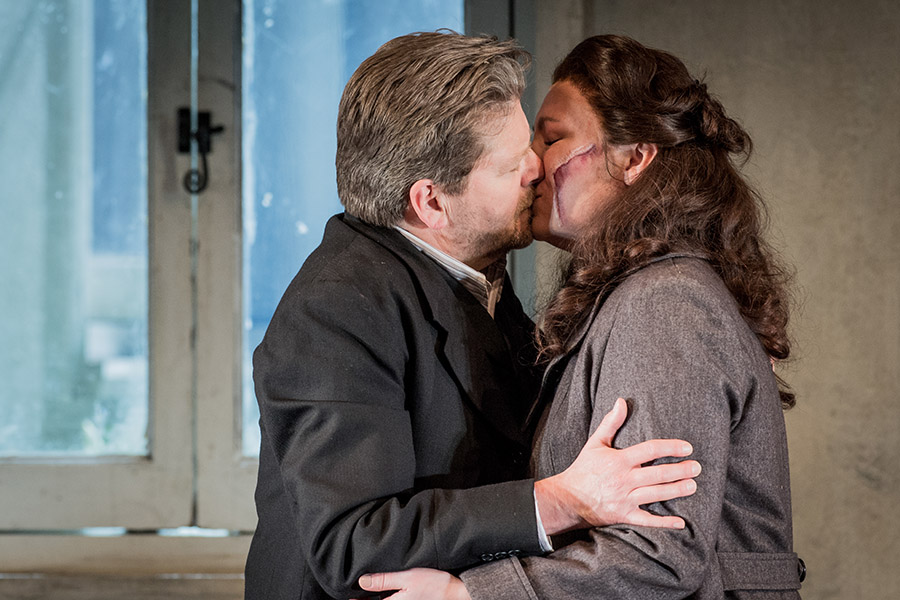 Janáček and his students collected more than 10.000 folksongs throughout Moravia, but apparently there are no direct quotes in this opera. The choruses in the first and third act sound genuinely folksy but Janáček has simply been very clever and made it all up. But the rhythms , intervals and short burst of melody are sometimes derided from folkloric sources. The BBC Concert Orchestra is such a versatile band that they can cope with all the challenges that the score throws up.  Conductor William Lacey doesn't linger in the lyrical passages and gives the score the sense of unease and anxiety that Janáček wanted to come across. There can be no doubt about the cathartic role of the music in the end when Jenůfa and Laca decide to start a new life and the opera ends in a rousing major chord while the back wall opens up to reveal… a young child sitting in a field of green shoots.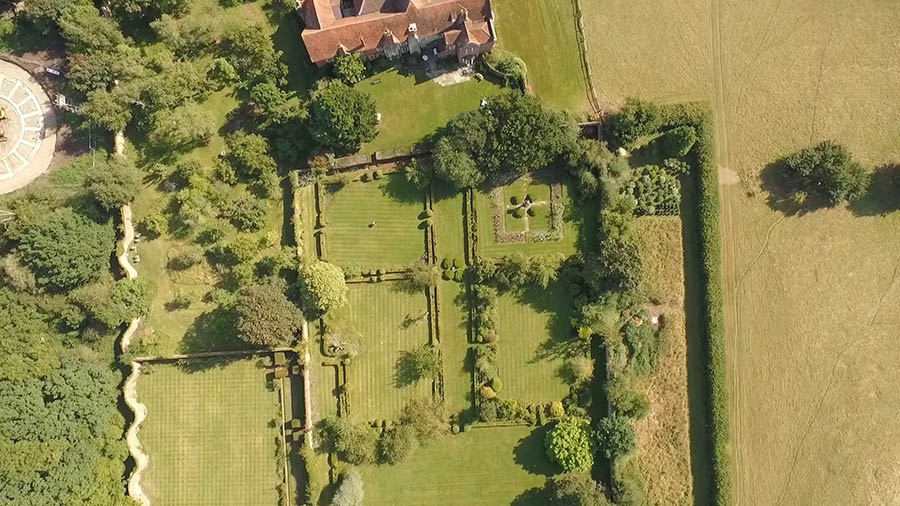 The brand new Theatre in the Woods isn't quite finished yet, but the acoustics are good. I visited on a hot day and inside the auditorium the heat was stifling. That can't have done the singers and the musicians any good, not to mention the audience. I hope this can be sorted out in the future. The gardens at West Horsley Place are marvellous and the house looks pretty stunning as well. You simply must visit!