Il Turco in Italia, music: Gioachino Rossini libretto: Felice Romani, seen at Wormsley, Garsington Opera,  2 July 2017
It is the vitality of Il Turco in Italia's overture, with its wonderful plaintive horn solo, that immediately sucks you into Rossini's masterful satire on the age-old theme of the flighty wife, the cuckolded husband and the exotic lover. For extra spice (and some lovely tenor arias) this dramma buffo adds a second, rather dull boyfriend.
Rossini commissioned Felice Romani to adapt a libretto that was originally composed in 1788 for an opera by the German Franz Seydelmann. Romani's version was considered to be more libidinous and daring than Mozart's Così fan tutte which had been staged just before Rossini's work was premiered at La Scala in August 1814. Its racy reputation and the fact that early on some of the most effective arias and cavatinas were cut  did the work no favours.  In the 20th century it was only revived (but with all the cuts still in place) as late as 1950 in Rome, with Maria Callas in the role of Fiorilla.  Callas recorded the opera four years later and she set the benchmark incredibly high. She more or less owned the role for decades despite the fact that she never got to sing Fiorilla's most powerful aria. The self-pitying but terrific aria Sqallida vesta a bruna hadn't been rediscovered when Callas sang the role.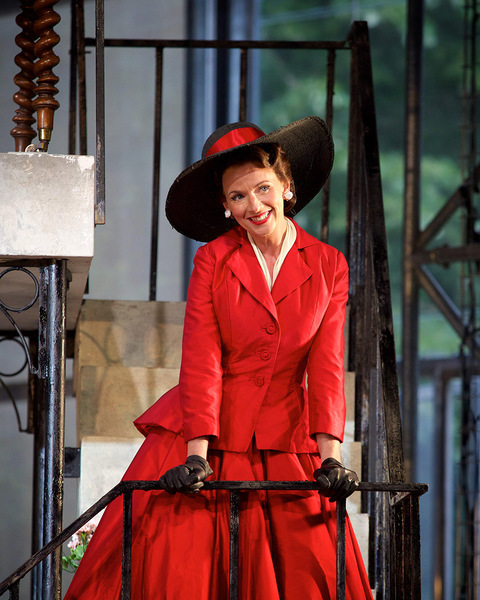 This is a revival of a Garsington Opera's  2011 production but with the original director in charge it all once more comes alive.
The opera's stock-characters (some of them wafer-thin) are based on classic commedia dell'arte figures but the often very clever lyrics combined with Rossini's orchestral brilliance provide the singers with all that is needed to present a believable  performance. In a couple of places the staging is perhaps a tad too cartoonish, but in general director Martin Duncan keeps the silliness in check. It would be easy to deconstruct the plot in postmodern fashion. The meta-theatricality is already  a given in the libretto.
The first act of this production is an absolute delight. The poet Prosdocimo, suffering writer's block, is in search of some real characters  and a dramatic plot. And really, any characters will do as far as he is concerned, at this point. Prosdocimo is reminiscent of the Don Alfonso character in Così fan tutte. Rossini also briefly quotes Mozart's opera in the trio Un marito scimunito.  Prosdocimo, who is well characterised by Mark Stone, is elated to instantly be presented with  a first act that has all the hallmarks of a tragic farce with love triangles and philandering popping up in virtually every scene. Initially Prosdocimo just observes the action, but soon he tries to influence the proceedings  to fit his own story. Fiorilla resents being described by the poet as a wayward wife. Her husband Geronio and her lover Narciso are both extremely offended by Prosdocimo when they read how he is going describe them in his play.
the Dutch baritone Quirijn de Lang is the only survivor from the previous production and he makes a dashing Selim. This young Turkish prince literally forces his entrance through the Neapolitan backdrop when he docks his yacht in the harbour. He doesn't even have time to finish his aria Bella Italia before he sets eyes on Fiorilla. Despite being married she is also game and leaves in no doubt what she makes of Selim's advances.  De Quirijn's looks the part and can act as well. His voice is perhaps a little underpowered and I would like to hear more tonal variety, but on stage his portrayal of this smooth cad more than makes up for these flaws. Geoffrey Dolton as the deceived Geronio is totally in his element and his comic timing is spotless and the cause of much hilarity. The tragedy is that I actually used to know an Italian who was not unlike his portrayal of this henpecked figure. I think the part was originally written for a baritone-bass and  a bit of dark tonal bluster wouldn't do the Dolton's performance any harm.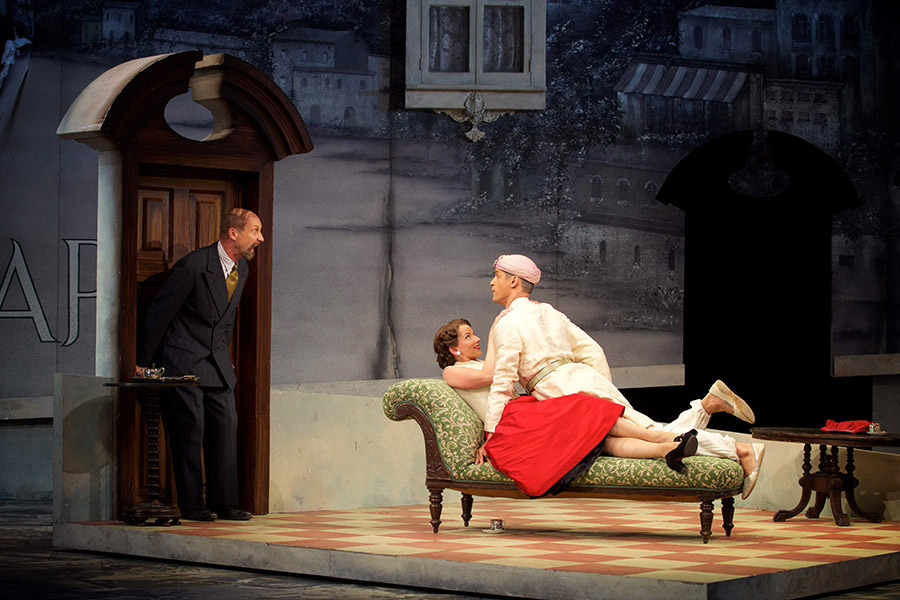 Some of the most effective and funniest scenes in the first act are the duets between Geronino and his capricious wife. Particularly when he catches her red-handed with Selim in his own home In the duet Per piacere alla signora leading into No, mia vito, mio tesoro Fiorilla first wins Geronio back with charm, only to then fly into a mock rage that makes it believable that Geronio will plead on his knees for her to forgive him.  Soon Fiorilla will have her own reasons for jealousy when she finds out that the gypsy  Zaida (Katie Bray) was once Selim's lover and she is  back on  the scene, having established her fortune-telling business in Naples.  Selim has clearly not forgotten their amorous past. Encouraged by the poet Fiorilla and Zaida come to blows at the end of Act I.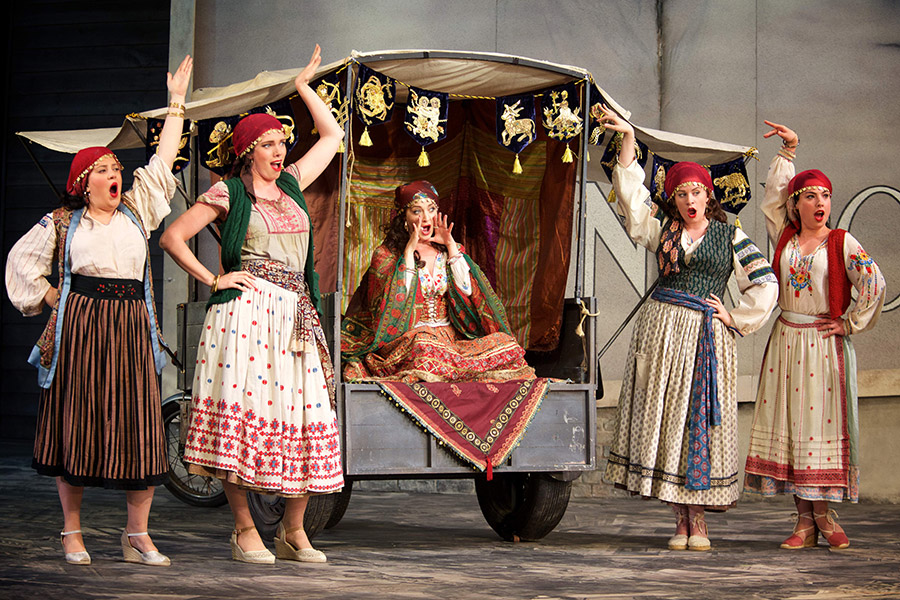 It gets even better in the second act as Selim offers to buy Fiorilla from Geromio, who is horrified.  The poet is willing to stir a bit more by organising a masked ball and he tells Geronio that Selim plans to abduct Fiorilla. But if Geronio turns up dressed like Selim he can foil the plot. But at the party confusion reigns because Narciso has also come dressed as the Turk and he ends up with the trophy, Fiorilla. Selim gets Zaida. This means that Geronio ends up with nobody.  This again necessitates the poet's intervention and Gernonio throws Fiorilla out of the house and tells her to go back to the hovel where she came from in Sorrento. I know, very confusing, but the point is that Rossini was a master of musically illustrating "chaos without casuality" (to quote the Viennese critic Karl Kraus).
Fiorilla gets to sing her heartbreaking aria Squallida veste e bruna (the one that Callas never got to sing). It is hard for Geronio and the audience, and the poet, not to melt. Geronio takes her back, Selim sails back home with his first love and we have a happy ending.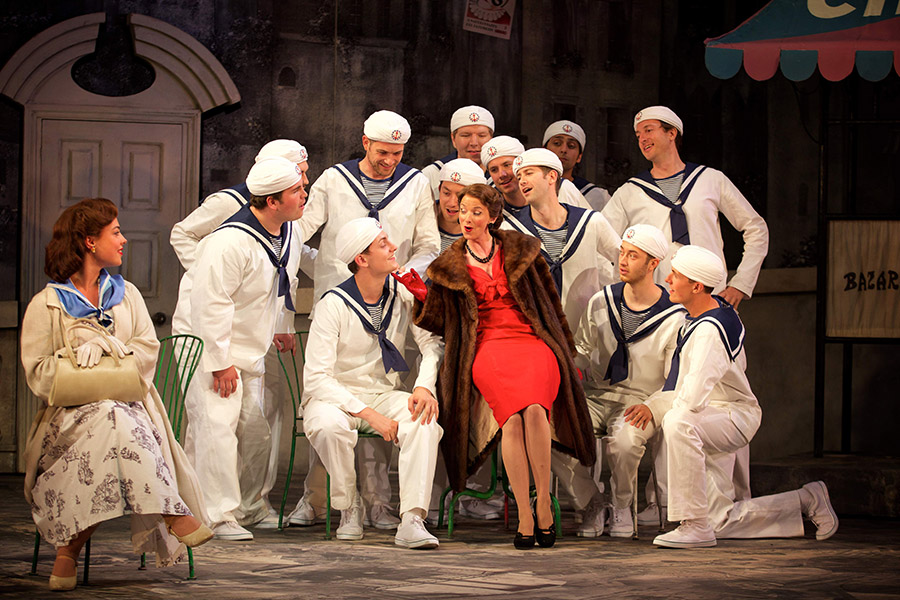 Sarah Tynan (Fiorilla) is a headturner when she spins her 1950s pleated red skirt in the first act. Tynan has as much vivid colour in her voice as her dress is scarlet in the second act. On top of that she handles appoggiaturas and embellishments with such ease and firmness that it is no wonder that she is irresistible to all men in this opera. Tynan could be a little bit more sharp-tongued ( Cecilia Bartoli and Callas are worth a listen) but she deserves to be seen even more in this country.
Martin Duncan sets the opera in 1950s Italy and well travelled moviegoers will instantly recognise Federico Fellini's world. The set by Francis O'Connor is uncomplicated and effective.
Rossini was an excellent choral writer (listen to his Stabat Mater) and the  22-year old here already proves his mastery of the genre. The Garsington Opera Chorus – picked from the latest crop of conservatory graduates and students – is young and eager to please. They get to play gypsies, Turks, sailors and masked partygoers. They are remarkably confident and entertaining for being relatively inexperienced.  I am sure chorus master Susanna Stranders deserves a huge credit for this.
The opera was a bit of a rush job (as most of Rossini's works seem to have been) and the rather disappointing finale he apparently left in the hands of an assistent. The secco recitatives of the poet are also not from the master's hand, as is not the rather pointless aria by Albazar. Mark Stone handles the slightly irritating writer role with aplomb. Katie Bray as Zaida is fiery and you can understand that Selim in the end prefers her to Fiorilla.
Conductor David Parry is an expert in this field and he clearly has brought out the best in most of the singers. The playing of the overture I found strangely muted ( and therefore a bit un-Rossini like) but thereafter the orchestra picked up and added sparkle and humour wherever it was required. As always with Rossini there is ample lyrical brilliance in the orchestration, but on the evidence of this amusing work it is not bleeding obvious that he soon would be going on to compose one of the absolute masterpieces of the opera buffa genre, Il barbieri di Siviglia.
This was a very enjoyable evening helped by the stunning weather. The Garsington Opera auditorium is an architectural marvel, inspired by Japanese architecture. When the weather is good (and it always seems to be when I visit) you can let the sun in through the floor-to-ceiling windows. This provided the whole first act of the opera some lovely natural lighting that one couldn't possibly replicate with stage lights.
I also think the picnic setting with the lake, the lush forests, the rolling hills, the deer park, the gardens and  the cricket pitch is the perfect advertisement for English country house opera at its glorious best.
https://www.garsingtonopera.org/booking-information