The Enescu Festival, 2-24 September, Bucharest, Romania
The 23rd edition of the George Enescu festival has just finished. This biennial event held in the Romanian capital Bucharest manages to be both bizarre and totally marvelous. Bizarre because when it comes to classical music there is no other event in Eastern Europe  on this massive scale . Come to think of it, I don't think there is any other classical music festival in the whole of Europe that can come up with a line-up as impressive as the Enescu Festival. What is admirable is that over a period of 23 days the organisers manage to pack in 80 events.  Local orchestras and soloists certainly feature and there is even ample room for new music, but the Romanians  clearly favour the big-ticket names. The first week saw visits by the Academy of St. Martin in the Fields, London Philharmonic Orchestra, Russian National Orchestra, Czech Philharmonic and the Pittsburgh Symphony Orchestra. This star-studded week also featured conductors like Marc Minkowski, Michael Pletnev and Vladimir Jurowski (who is also the new artistic director of the festival). Oh, and then there were performances by soloists like Lang Lang, Nikolaj Znaider, Philippe Jaroussky, Anne-Sophie Mutter and Nikolaj Lugansky.
But where does the money come from?  To be able to invite many of the world's highest paid classical artists and orchestras you need deep pockets. Bucharest doesn't look like it's awash with dosh. Far from it, and I can't say that I noticed any major improvements since I last visited the city two years ago. But perhaps I should be glad that some money is directed towards the arts instead of ending up in the pockets of corrupt councilors and politicians.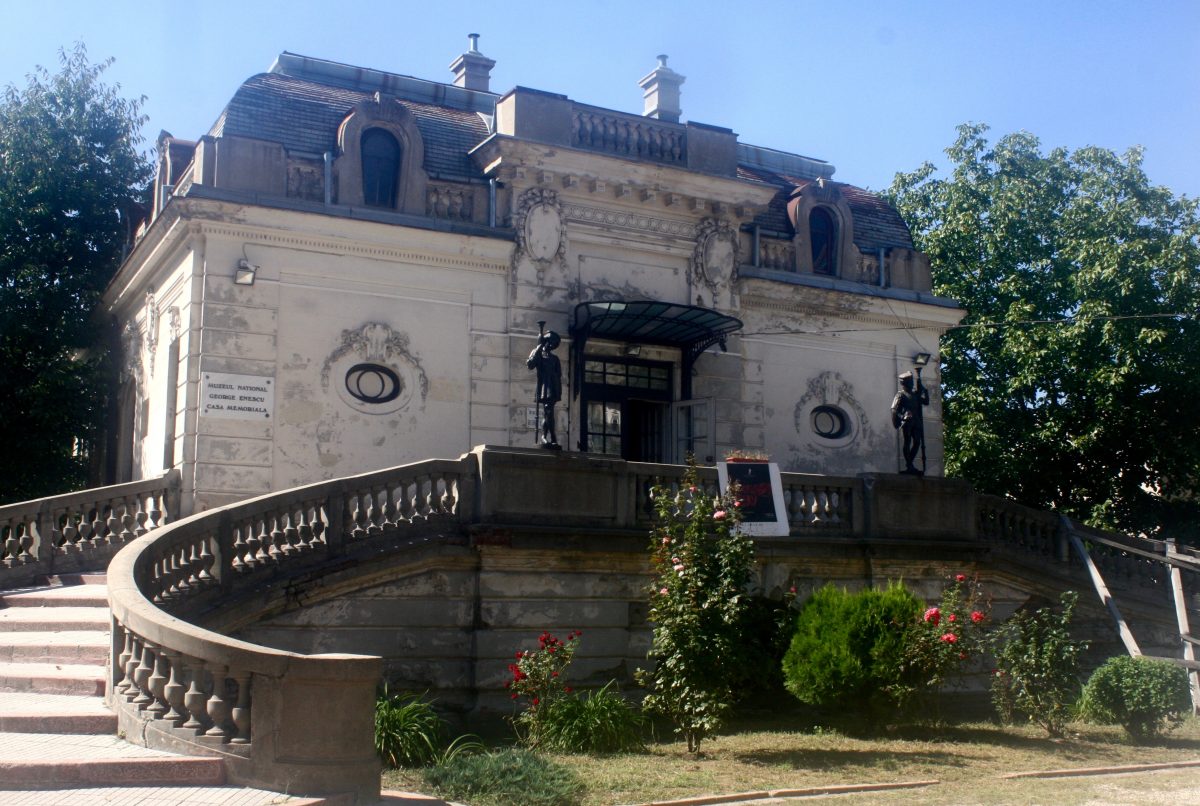 Internationally the festival is already making a name for itself and I heard many different languages spoken among the audience members. I genuinely believe George Enescu (1881-1955) deserves to be even better known. He was an excellent violinist, teacher, pianist and a decent enough conductor to be asked by the New York Philharmonic to replace Arturo Toscanini as chief conductor (he turned the offer down). Today he is mainly remembered as a composer of the two Romanian rhapsodies. But Enescu had many strings to his bow and that also goes for his compositions. He was taught composition by no less teachers than Gabriel Fauré and Jules Massenet, who both declared that he was one of the best pupils they had had ever had. Enescu wrote in many different styles which makes it difficult to categorise his music. I have been told that his individuality is one of the reasons why it is so tricky to fit his music into a symphony orchestra's concert programme. Another contributing factor is that many of his finest works are quite complex and challenging and would probably require extra rehearsals. The brilliant Spanish cellist Pablo Casals called Enescu "the greatest musical phenomenon since Mozart". George Enescu remains Romania's most prominent musical genius. His best works deserve to be heard more often in London, Paris, Vienna and Berlin.
George Enescu was also a well-respected teacher and mentor. He taught both Arthur Grumiaux and Ida Haendel and his very first pupil was the teenaged Yehudi Menuhin. Yehudi managed to persuade Enescu to take him on after his studies with Ysaÿe had gone awry. Menuhin remained a life-long friend and one of his greatest admirers. They performed a number of times together and particularly their 1937 recording of the Bach Concerto for two violins has lost none of its lustre and perfect interplay.
The first festival in 1958,  organised three years after the composer's death,  was an initiative by Enescu's good friend George Georgescu. He was a respected conductor and international stars were eager to play in Bucharest. But by the 1970s the fine arts were no longer appreciated by the party hierarchy.  The communists cut the budget and were now mainly keen to invite artists and orchestras from countries that were friendly towards the Ceaușescu regime. By the end of the 80s the festival was more a nationalistic event with very few visiting stars.  After the 1989 revolution the festival surprisingly quickly took on an international character again. The Romanian government came on board in the mid 90s with some generous funding and nowadays the Ministry of Culture is responsible for 70% of the total budget! Most of the concerts with major artists are televised by Romanian TV.  Music students and many schoolchildren are offered free tickets or at greatly reduced prices. The concerts with renowned orchestras tend to sell out very quickly and the organisers claim that the interest in classical music is slowly but surely growing.