Benjamin Britten's last opera, seen at Garsington Opera at Wormsley, 23 June 2015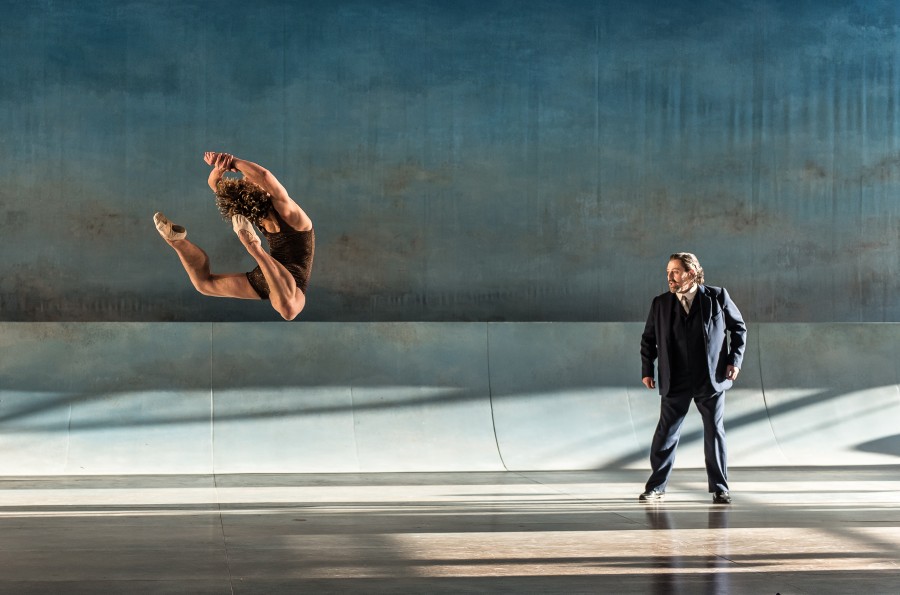 Benjamin Britten composed Death in Venice, based on Thomas Mann's much admired novella, knowing that he didn't have long to live. He prioritised composing the opera over the need to undergo open-heart surgery.
In the spring of 1973 he finished Death in Venice and only then admitted himself to hospital. After the operation he was still too unwell to attend the opening night. The pressure that Britten put himself under to finish the work is quite revealing and relevant to the interpretation of the work. Did he have something to get off his chest?
Luchino Visconti's film version of Death in Venice (1971) I saw as a young adult. Particularly Dirk Bogarde playing the novelist Gustav von Aschenbach made a lasting impression. The director's marvelous use of the Adagietto from the 5th Symphony inspired me to explore Gustav Mahler's music and I am grateful to Visconti for that. I found out that Thomas Mann had based some traits of the Aschenbach character on Mahler, who he had once met. Mann learnt of Mahler's death while working on his novella in Venice in June 1911 and it greatly saddened him. Britten was also a great admirer of Mahler's music.
But when I revisited Visconti's film a decade ago I found it sentimental, slow and morally quite hard to stomach. I was not familiar with Britten's opera, but to say that I was apprehensive about seeing an opera on the same subject is an understatement. Luckily Garsington Opera persuaded me to experience their splendid new production. Now I know that Britten together with his librettist Myfanwy Piper composed an adaptation of the novel that intellectually is much more satisfying than Visconti's film.
Benjamin Britten was still recovering from heart surgery and a stroke when Death in Venice had its world premiere in June 1973. Britten's assistant Steuart Bedford was given his international break. Bedford proceeded to conduct the first recording of the work as well with Britten's life partner Peter Pears, for whom the role was created, in the lead. Bedford is alive and well and now musically in charge of Garsington Opera's new production. I can't think of anyone else who is better suited for the job.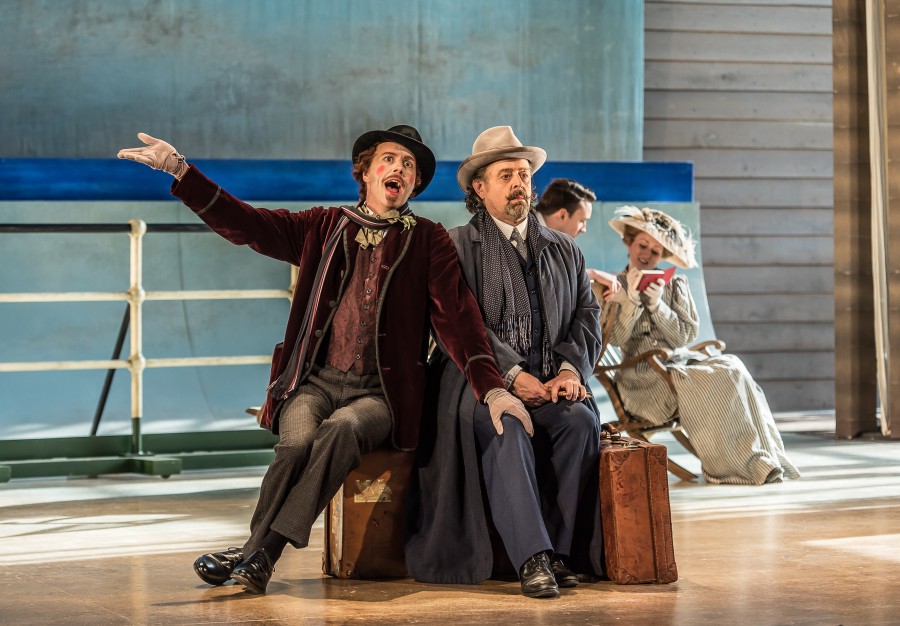 Some of the members  of the Garsington Opera Orchestra have been performing together for some 20 years but they only get together for  three months a year. They certainly don't sound like a temporary band and they need to be on their toes for Britten's work. The score is quite tricky with exotic rhythms and dodecaphony thrown in for good measure. I know, the restraint is deliberate but in my ears various bits seem a touch too 'under orchestrated'.
Correct me if I am wrong, but I believe that there is only one passage with an orchestral tutti and the fragmentation doesn't always seem to serve a real purpose.
Sreuart Bedford has total confidence in the work, paces it calmly, adds fluency and holds it all together, while at the same time guiding some of the less experienced singers and dancers.
The libretto is quite faithful to Mann's surprisingly complex novella. Gustav von Aschenbach ( Paul Nilon) suffers writer's block and decides to visit La Serenissima where surely the inspiration will start to flow. On board a ship to Venice the ageing novelist meets a simpering, extremely irritating fop who fancies strapping young men. At the end we discover that we have seen a mirror image of von Aschenbach's fate. He will become a foppish figure himself.
As soon as Aschenbach arrives in Venice messengers of Death begin to pop up everywhere. The sinister gondolier who takes Gustav to the Venice Lido surely is Charon, the ferryman of Hades. Then there is the hotel manager, the hotel barber and various other ill-boding and even menacing characters that are all performed by one and the same bass-baritone. At Garsington these roles were taken by the excellent and versatile William Dazeley.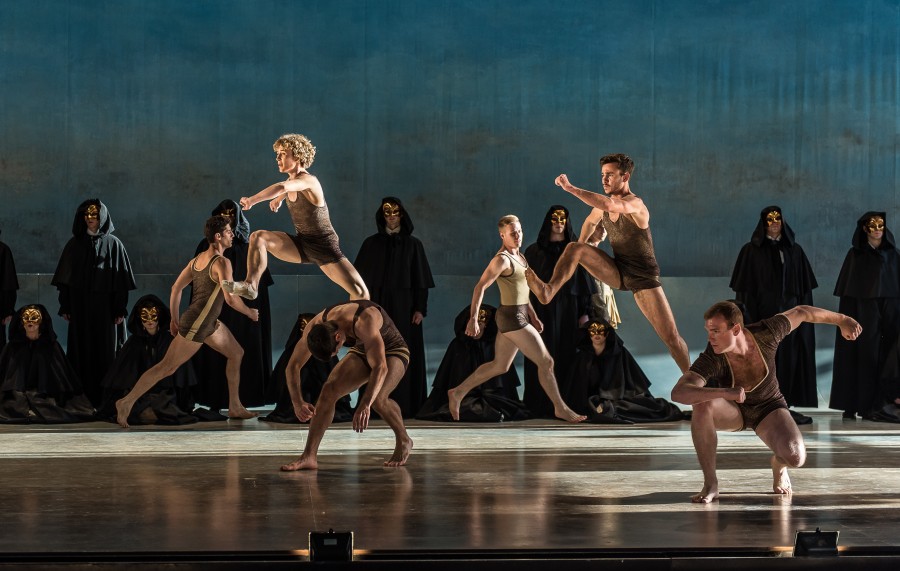 A young Polish family staying at the same grand hotel fascinates Von Aschenbach. Very soon he realises that he has become infatuated with the teenaged son, Tadizio. In the novel and the opera Tadizio very much embodies the Greek ideal of beauty. Perhaps he is also Hermes, the God who guides the recently deceased to the afterlife. The contrast between Apollonian and the Dionysian aspects, or in other words measure and harmony set against unbridled passion and excess, is what also made Britten tick. Aschenbach's dream sees Apollo and Dionysos battling it out to win the writer's soul and the (unhealthy) sexual tension is not held back in this production. Aschenbach thinks he is self-disciplined and in control, but Dionysus (William Dazeley ) stirs his uncontrollable feelings and obsession with Tadizio.
In the book Tadizio never speaks and in the opera he also remains mute. Britten's brilliant move is to turn the Polish family into dancers. To stress the boy's 'otherness' he is often accompanied by pitched percussion instruments and quite taut music which contrasts with von Aschenbach's more dynamic and diverse accompaniment . For the beach games and children's play Britten creates an exotic sound reminiscent of the Balinese gamelan.
Britten also incorporated the sounds distinct to Venice. He took note of the popular songs and calls of the gondoliers and incorporated them in the score. During the boat trip a scrubbing brush is deployed very effectively on the snare drum to mimic a ship's steam engine. There are many similar instances.
When a cholera epidemic breaks out in Venice people start to leave but von Aschenbach chooses to stay so he can follow the Polish family around the city. The weather is sultry and his dreams become feverish and obsessive. After a rejuvenation make-over at the barber's he looks like a fool. Tadizio for the first time acknowledges him but at the same time laughs at him. It all ends in tragedy. Or does it? Some people would argue that the 'sick' von Aschenbach gets what he deserves for being a pervert.
Britten  identified himself with von Aschenbach in many different respects. There are too many pompous Greek mythology references that perhaps try to present a more respectable, Hellenistic angle on paedophilia. But after the Jimmy Savile scandal and the avalanche of sex abuse trials we have a less forgiving view on these issues than people had 40 years ago.
Britten was without a doubt attracted to underage boys and his behavior at times showed a paedophilic inclination. There is no suggestion that he ever overstepped the mark and none of the boys (nor their parents) that he liked to host at home ever complained. It seems that Britten managed to successfully repress his sexual inclinations in that respect. Could it be that Britten's insistence on finishing off his adaptation of Mann's novella before undergoing the heart surgery was his way of dealing with sexual desires that he morally felt uncomfortable with? In a way Death in Venice, with all the moral questions it asks, is today even more relevant than 40 years ago.
Visconti's film made Björn Andrésen ( in the role of Tadizio) quite famous and he was much admired for his blond and blue-eyed, cool Scandinavian looks. Celestin Boutin who gets to dance the same part in the opera is not bad looking either and he has a nicely toned body. Just like the other dancers he is clearly not a minor. Boutin has just completed his studies at Ellison Ballet in New York and here he gets to show off in many solos. Boutin doesn't possess natural grace, but he compensates with muscular flexibility and athletic poise.
For female singers there isn't an awful lot to do in this opera but the choir gets to mill around a fair bit. The staging is straightforward and economical. There is nothing wrong with that (except for the backdrop of the Venetian sky, which I find unconvincing). I loved the large white voile(?) curtains that can be pulled across the stage to create shadowy figures, secrecy and successfully evokes the rippling effect of lapping waves or the arrival of the dusty scirocco wind.
Paul Nilon as Gustav von Aschebach is without a doubt the star of the show. His characterization is excellent and he really inhabits the role, revealing new layers in scene after scene. The many recitatives are inspired by 17th century technique where the rhythmic profile is not determined. The singer is given quite a lot of freedom and Nilon nails it. The high lying lyrical lines pose no problem and his deep colouring is also very solid.
Finally I would like to thank the sun for making an appearance. Yes, the natural light really adds a special 'summery feel' to the staging, something that never could be achieved in an ordinary theatre. Venice was Britten's second (after Suffolk) favourite place and there are moments when the serene magic of that city seems to radiate across the stage.
END OF REVIEW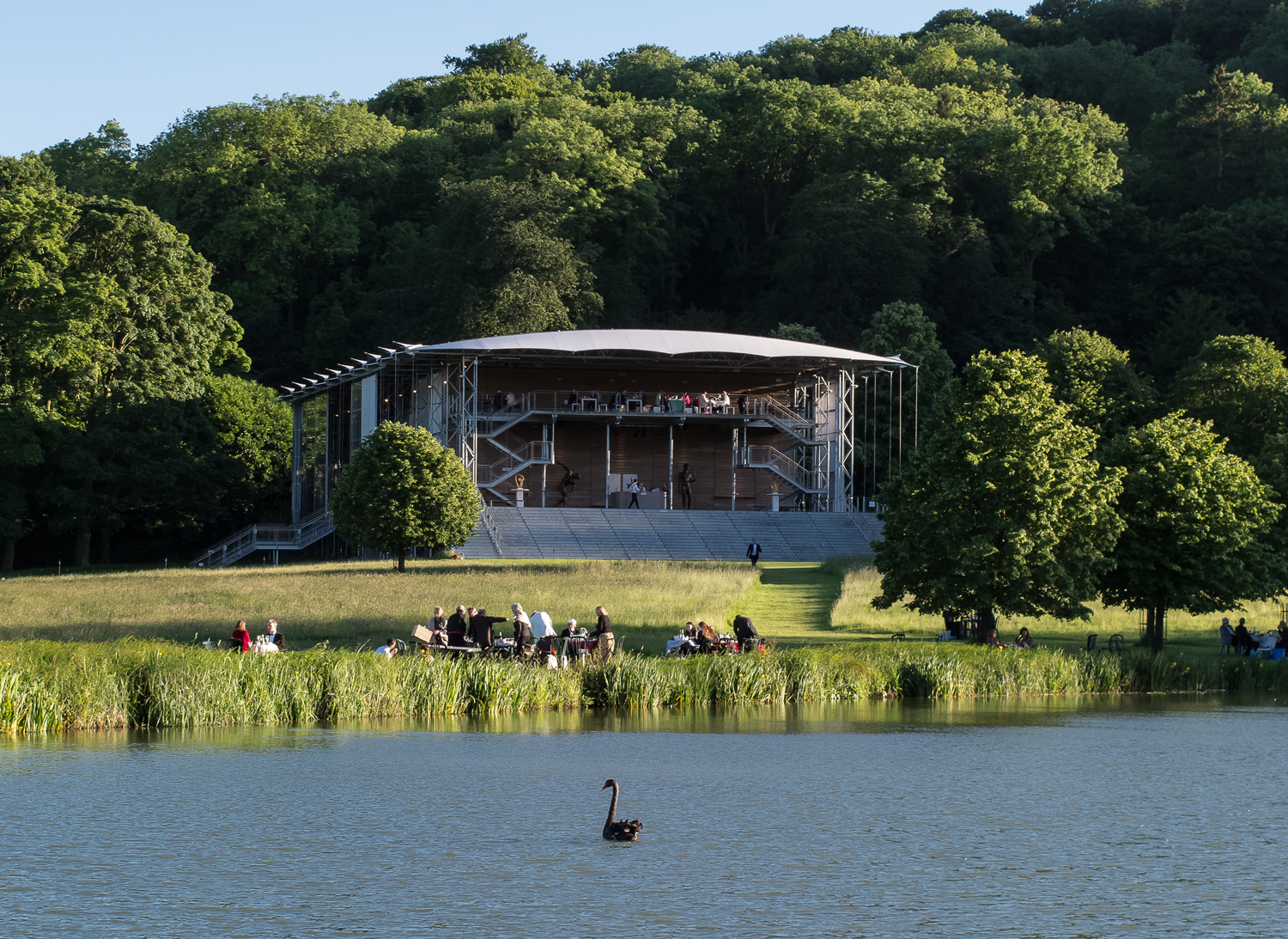 GARSINGTON OPERA, the BUILDING
Every year over a period of seven weeks Garsington Opera at Wormsley park (just off the M40 between Oxford and High Wycombe) stages four different operas. The whole costly operation is run completely with the help of private funding and donations by foundations.
Garsington Opera's Pavillion at Wormsley Park (owned by the Getty family) was designed by architect Robin Snell and is worth a visit in itself. The construction is very clever and was surprisingly 'cheap' to build ( £1.8 million in 2010). Incredibly the auditorium can be put up and pulled down in a matter of weeks, but It has remained in place since it was first built. The Pavillion does have a Japanese feel to a it (particularly seen from  afar) with huge transparent fabric wall panels that welcome the natural summer ambience and provide natural light for the staging. In the unlikely event that you get bored during a performance, the garden views  visible from the auditorium offer a splendid alternative. The long interval gives you ample opportunity to picnic and explore the parkland setting with a rose arbour,  cricket pitch, lake, island pavilion and roaming deer.
Stressed fabric sails enhance the acoustic and the orchestra pit is placed in the  ha-ha which would go some way to explain the finely balanced sound.
.