Sunday 27 may 2018, Handel Festival Halle
The late-Gothic Ulrichskirche in Halle (Saale) has been a concert hall since the 1970s and the massive concert organ is now a bit of a feature. It is not old, but if you visit the iconic Marktkirche you can during the Händel festival in June on a daily basis hear the original Reichel organ in action. This is the very organ that Händel played in his youth. J.S.Bach also almost certainly had a go on it. Today the sound is as splendid as ever.
Only a little over a month after having composed The Messiah in September 1741, Handel turned his hand to the oratorio Samson. This was an incredible feat, considering that the work is nearly 3 ½ hours long. After finishing Samson Handel left for Dublin, but he returned to London to revise the work and in February 1743 it had its premier at Covent Garden.
The Scottish Dunedin Consort have so far made critically acclaimed recordings of Handel's The Messiah, Acis & Galatea and Esther, all conducted by their music director John Butt. They are planning to release a recording of Samson in the not too distant future. This was to be my maiden Samson and I couldn't have wished for a better qualified ensemble.
The Ulrichskirche also seemed a perfect venue for an oratorio with a biblical story. But Handel didn't intend his oratoria to be religious, they were simply operas on a sacred subject.
Samson includes two famous arias: 'Let the bright Seraphim' and 'Total eclipse'. It helps that the story about Samson and Delilah is  well-known and not as complicated and convoluted as Handel's opera Berenice (see https://acge.net/handel-festspiele/). The libretto by Newburgh Hamilton was a bit of a cut and paste job. The main source is John Milton's drama Samson Agonistes, rather than the Book of Judges (which features the 'original' story). There are also quotes from many poems and odes by Milton, as well as bits and pieces from the Book of Psalms. But the story remains rather straightforward and sets the Israelites against the Philistines, the worshippers of false gods. This is where Mendelssohn got some of his ideas for the oratorio Elijah. Every time Samson was performed in the 1740s and 50s it turned out to be a hit.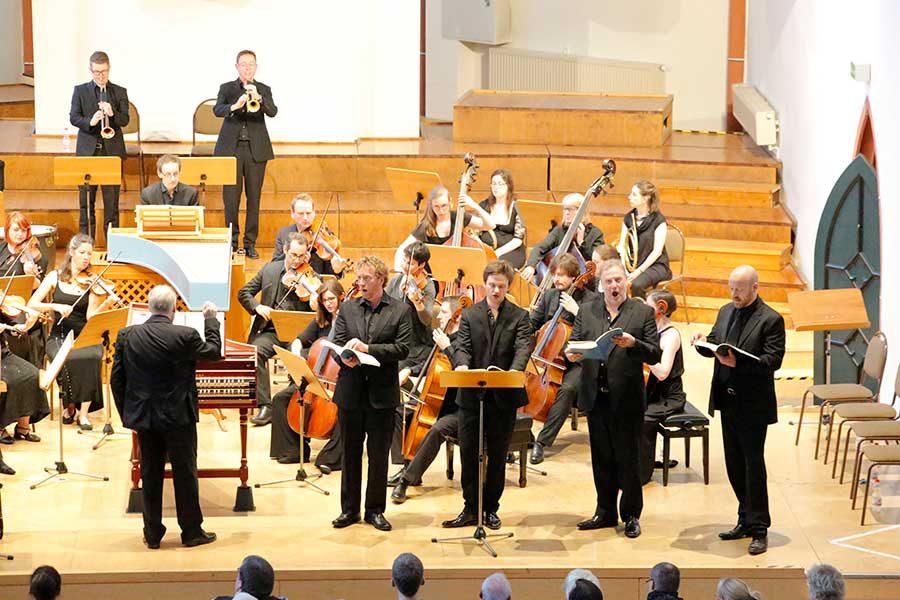 We meet Samson in Gaza where he has been imprisoned after he has had a severe haircut and his eyes gouged out. No wonder he is bewailing his fate. It helps to know that John Milton was blind and Handel's eyesight was beginning to fail when he composed Samson. Previously his title roles were mainly written for castrati but Samson, being a man's man, was created for a tenor.
In this concert performance tenor Joshua Ellicott (Samson) was giving it his best shot, but in the first act it seemed that there simply weren't enough memorable moments – apart from the aria 'Total eclipse! – No sun, no moon!'. The plot is very static to begin with and the singers were in the opening act, with the exception of Ellicott, focusing a little bit too much on just singing. I know, this was a concert performance, but even so I could have done with a bit more interaction between the soloists. I respect that John Butt probably wants to perform the whole oratorio uncut, but in a live performance it is an unwise idea.
Jessica Dandy (Micah) is a great talent with a wonderful contralto. The role of Samson's friend Micah was originally sang by a woman, but today a countertenor usually sings the part. Dandy placed her score on a big music stand and thereby put up an invisible barrier between herself and the audience. Her voice sounded at times underpowered and she could seem more absorbed by the music than connecting with the audience (or at least with me). I repeat, her voice is very attractive, warm and glowing like burnished bronze and with some more guidance she could become a top Handel interpreter.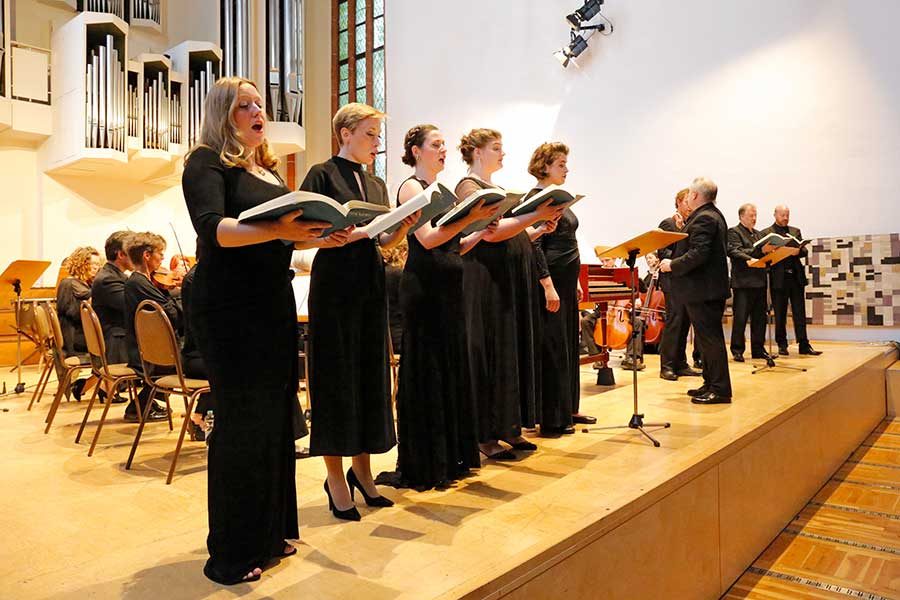 The soprano Sophie Bevan knows the tricks of the trade and never puts her score on the stand. She wasn't afraid to immerse herself in the role of the two-faced Philistine Dalila. I did every now and then get that feeling, and you only get rarely in the concerts, that she was singing to me personally. Joshua Ellicott responded accordingly. Samson and Dalila's heated exchange in the second act consequently became one of the highlights of the night. I also want to single out the bass Matthew Brook (Manoa). Samson's father is by no means an essential character (and could be cut by at least a third) but Brook  squeezed every bit of tenderness out of the role that you could wish for. The nine soloists also doubled as chorus of Israelites, Philistines and Virgins.
Handel scored Samson for a large orchestra and there was some particularly brilliant individual playing. The solo trumpet in 'Awake the trumpet's lofty sound' and 'Let the bright seraphim' was outstanding. Butt directed from the harpsichord, but much of the time he was standing while at the same time playing the keyboard. He kept the pacing fairly crisp and was not tempted to speed too much in the final act. Dunedin Consort is Scotland's finest when it comes to Handel and Bach, but sometimes they perhaps need to be less of a slave to the material. My advice is once more: omit parts of the ponderous first act!
Dunedin Consort will perform Samson at the Edinburgh Festival