Did Charles I's marvelous art collection play a part in his downfall and consequent execution? No other royal, apart from possibly George IV, devoted as much money and time to acquiring works of art.
He may have lacked political nous but the stunning 'Charles I, King and Collector' exhibition at the Royal Academy in London makes it clear that this Stuart was a true lover of paintings, carvings, and engravings. In little over two decades the king managed to amass some 2000 works of art.
The Royal Academy is  celebrating its  250th birthday and their gift to the nation is to reunite 140 of the most stunning paintings, tapestries, drawings and sculptures that were acquired by Charles I nearly 400 years ago. Reunite, because Cromwell, after the beheading of the King in 1649,  sold off most of the magnificent collection. This meant that  many of the works disappeared abroad.
Seeing this show is like discovering a completely new museum with nothing but masterpieces. The majority of the works come from the present Royal Collection, which today contains some 7000 pictures. Compare this with the National Gallery in London which 'only' owns a third of that amount.  But some of the highlights  are on loan from the Prado, Louvre and Vienna's Kunsthistorisches Museum. A number of those works rarely travel abroad but an exception was made for this ambitious project.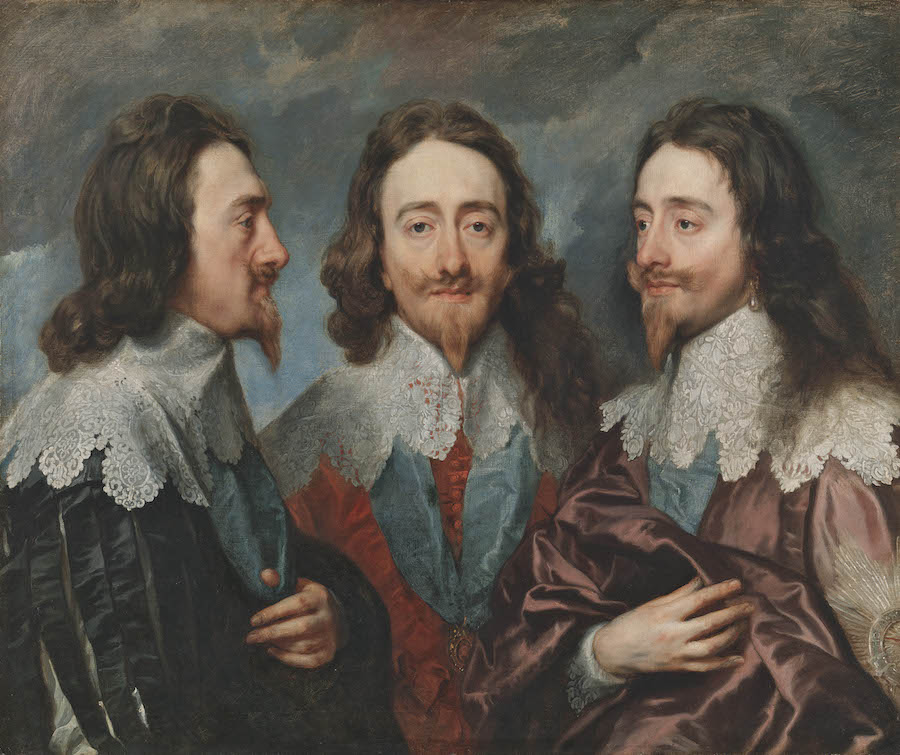 The first room introduces us to the artists and art buying agents that worked for the King.  Cue splendid self-portraits by  Anthony van Dyck and Peter Paul Rubens. Van Dyck's famous 'Charles I in three positions' and Rubens's uncharacteristically stiff  rendition of  'George Villiers, the 1st Duke of Buckingham, on horseback' are also noteworthy. It is all very fine and impressive,  but I think a more powerful introduction to the exhibition would have been achieved with van Dyck's  two  equestrian portraits of Charles I. These monumental works are placed midway through the show. They both portray the King dressed in harness and make it clear that he is in control and ready for action. If there was one lesson that Charles learned during his visit in Madrid (see below) it was that owning  and displaying great artworks could increase your status and power among the aristocracy and foreign ambassadors.
For a true patron of the arts  it was also essential to commission works of art and have artists working for you in-house. Enter Anthony van Dyck (1599-1641) who had been an apprentice of Rubens. Van Dyck settled in London in 1632 and within a year he was appointed the King's 'Principal Painter'.
Van Dycks two equestrian portraits are  here joined by 'Charles I in the Hunting Field' which the Louvre was willing to lend. This is the most personable portrait of the King that I know. 'The Merry King' looks positively relaxed, helped by the fact that he is grounded (that is, not on horseback) and wears no armour.  His expression is less aloof, stubborn or blank than usual. I don't care if it creates a false image,  van Dyck gives it a genuine sense of honesty.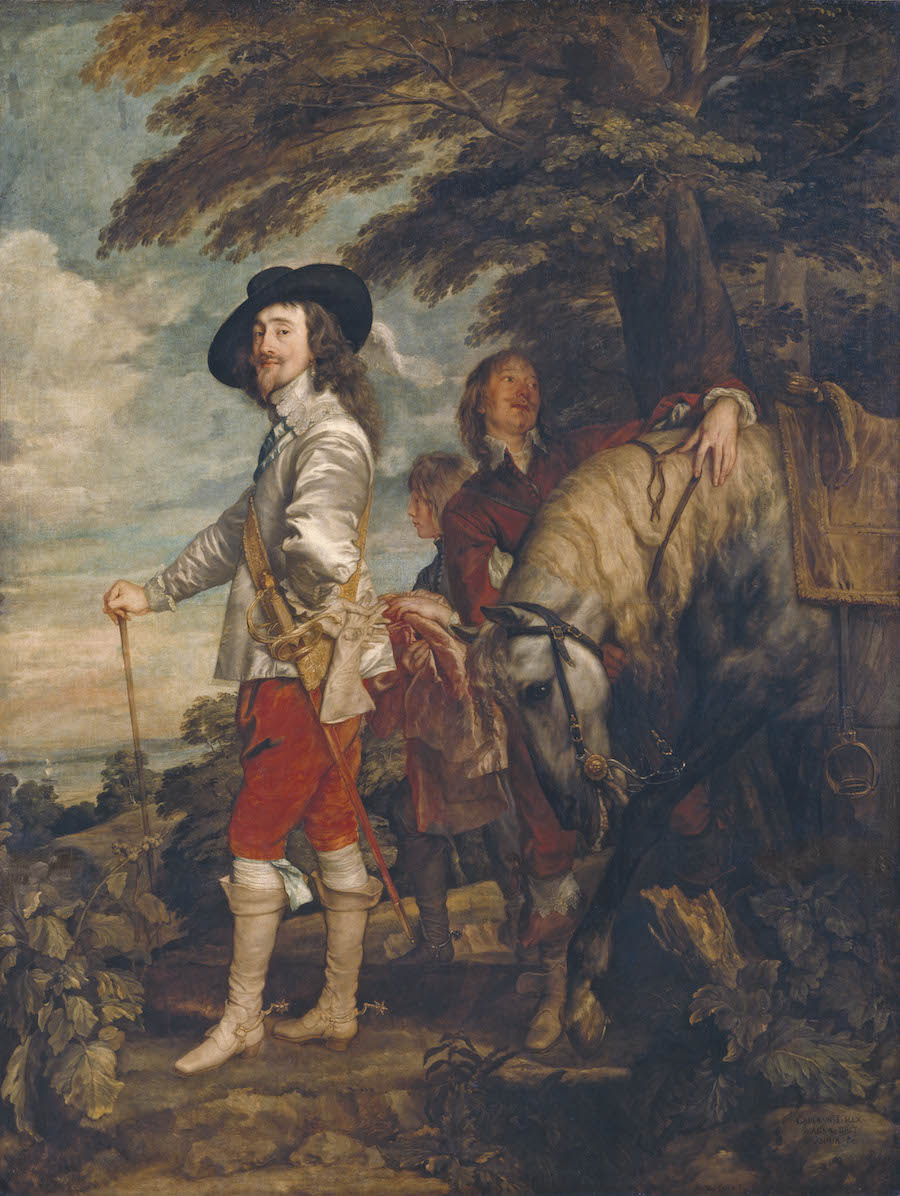 In an adjacent room there are even more  royal portraits by van Dyck, but they are not all terribly gripping. But his portrayal of the Five Eldest Children of Charles I ( 1637 ) is another highlight. The future King (Charles II) poses comfortably and takes centre stage. He looks straight at the viewer, but am I wrong in thinking that he is just slightly cross-eyed? I love the fact that he is not looking a day older than his 7 years, while at the same time with regal bearing attempting to laconically control the massive mastiff dog sitting next to him. His baby sister Anne is particularly well captured and a lesson in how  a small child's fidgety motion can be suggested in a 'frozen' image.
If this exhibition had been organised chronologically it would have started with James I (1566 -1625), who was clever, but showed scant interest in the arts. Apparently he was physically quite repulsive and therefore it should come as no surprise that his wife, Anne of Denmark, preferred pictures to men. She enjoyed walking alone in the picture gallery. In many ways it was Anne who gave the impetus for starting a Royal collection.
Henry Frederick, James and Anne's eldest son, showed some interest in commissioning paintings but died very suddenly in 1612. On his deathbed he gave his brother Charles a small equine bronze statue by Pietro Tacca, which is shown in the exhibition. The 12-year old Charles became the heir apparent, but he was a physically weak child, short in stature and for a while he was made to wear reinforced iron boots. Charles overcame his weaknesses by practising strenuous exercise (running around the palace grounds, etc.).
Eventually the Prince of Wales decided to look for a wife.  Charles traveled in 1623 incognito to Madrid together with his best mate George Villiers (later the Duke of Buckingham). He intended to woo the younger sister of Philip IV, Infanta Maria Anna. It was a pretty daring move because the Spanish were certainly not allies even if the war was over. The so called ¨Spanish Match' negotiations didn't go to plan because the Infanta had no intention of marrying a non-Catholic. But the visit was not completely unfruitful. Charles had a chance to study the finest collection of paintings in the world, amassed by Philip 'el Grande' who almost certainly would feature in a top ten of the greatest patrons of the arts throughout the ages. The Spanish king gifted Charles a number of important paintings  and sparked a genuine interest in art in the jilted Prince of Wales. Charles returned to England and almost immediately started devoting himself seriously to collecting art.
The long and short of it is that Charles acquired a head for art in Spain. But it wasn't Spanish paintings that he had fallen in love with. It was Renaissance art from the  Italian Peninsula that took his fancy.
Read my next blog to find out how Charles's agents managed to outwit many other royal competitors  who were trying to buy an outstanding collection that the Gonzago family had put together over the period of more than a century.
Charles I, King and Collector is on at the Royal Academy of Arts in London until 15 April, 2018
.