Living with gods: peoples, places and worlds beyond
Exhibition at British Museum until 8 April 2018
If there was ever an exhibition worth the price of the entrance fee just for one object, then this is it. The opportunity to see the oldest known figurative sculpture, depicting a half man/half lion creature, should be reason enough to visit  Living with Gods at the British Museum.
It is very likely that this so called Lion Man is a religious object. The smooth surface of the upper (lion) body indicates handling by humans passing the object around (for centuries?) in some kind of ritual. Radiocarbon dating  indicates that the sculpture carved out of the ivory tusk of a mammoth is at least 40,000 years old.
The very alert looking beast was discovered in a cave in south-west Germany just days before the second world war broke out.  Not until 30 years later did an archeologist start to piece together the many fragments that originally had been gathered. This century more splinters were found in the Hohlenstein-Stadel cave and five years ago this powerful figure was revealed. Now only about 20% of the body is still missing.
To appreciate the evocative narrative of this figure you do not have to read academic treatises or even a catalogue entry. I get an immediate picture of how our archaic German Hominini ancestors would have communicated with their God(s) or the forces of nature through this bipedal animal.
Because the Lion Man is such an exceptional object, there is a danger that everything else can seem rather mundane.
Yes, there are rather ordinary articles on display: wooden phalluses to boost fertility, an Albanian baby blanket, communist propaganda rubbish and a few other rather unremarkable items.
And despite the fact that there are relatively few artefacts on display,  they have been very carefully chosen and they all come with a story.
This is very much an exhibition that wants to spark and engage your own thoughts and make connections between different faiths. The point is, maybe, we are all quite similar and have been throughout the ages. Well, that should be no great discovery, but strangely enough IT IS.
And there are some great works of art on show as well.
The painted memorial posts from Arnhem Land (Australia) that  normally hold the cremated remains of people, are stunningly decorated with tiny swirling fish. These hollowed out tree trunks are normally left to rot along the coast, thereby returning the dead person's spirit back to nature. These particular posts have been created for art's sake, but they still relay a message.
All the major, and some minor, religions are represented in this exhibition, but this is not an attempt to relate the history of our relationship with our God(s). The aim is to search and identify some patterns and shared stories that bring communities together (within a religion).
For the visitor there is enough physical space between the display cases to allow some room to reflect. I was discovering all kinds of parallels, dichotomies and quirky facts about religions and their rituals in the process of studying the objects.
I asked Jill Cook, the curator of Living with Gods ,what she was hoping that visitors  would take away from this  exhibtion?
I also loved the bronze Shiva Nataraja Chennai sculpture. Its form is so energetic. The supreme being dancing creatively, while trampling a child… hold on what is going on here?  Correct me if I am wrong, but the child symbolizes ignorance.  A large Shiva sculpture was also placed outside the CERN nuclear research centre. Listen to Jill Cook explain why the physicists and engineers decided that this Hindu deity is relevant and a metaphor for the world that they are exploring.
All communist societies try to do away with religion. The Soviet cosmonaut Yuri Gagarin was the first man to journey into outer space — there was apparently no sign of God in space and this was used as a kind of satirical propaganda coup by the (at the time) rather simple  leaders in the Kremlin. Still the Soviets failed completely to eradicate the Russian Orthodox Church .  The Moscow Patriarchate is nowadays closely linked with the state.
The most moving two works are shown in the last display case. They are both contemporary and can be seen at the top of this page. The Lampedusa Cross is also shown below. Jill Cook describes that work in the audio, but the other work by a Syrian artist is equally powerful. The two children's t-shirts that are hanging like rags, have each an identification scribbled on them: Unknown Boy no. 741 — 15-11-15 and Unknown Girl no. 872 — 19-12-15. These unidentified children were found on the island of Lesbos. They have no grave, no memorial. What happaned to their parents, family? Who knows? Soon they will be forgotten. Are these people at least Known unto God? Just like the unknown war dead buried in huge cemeteries.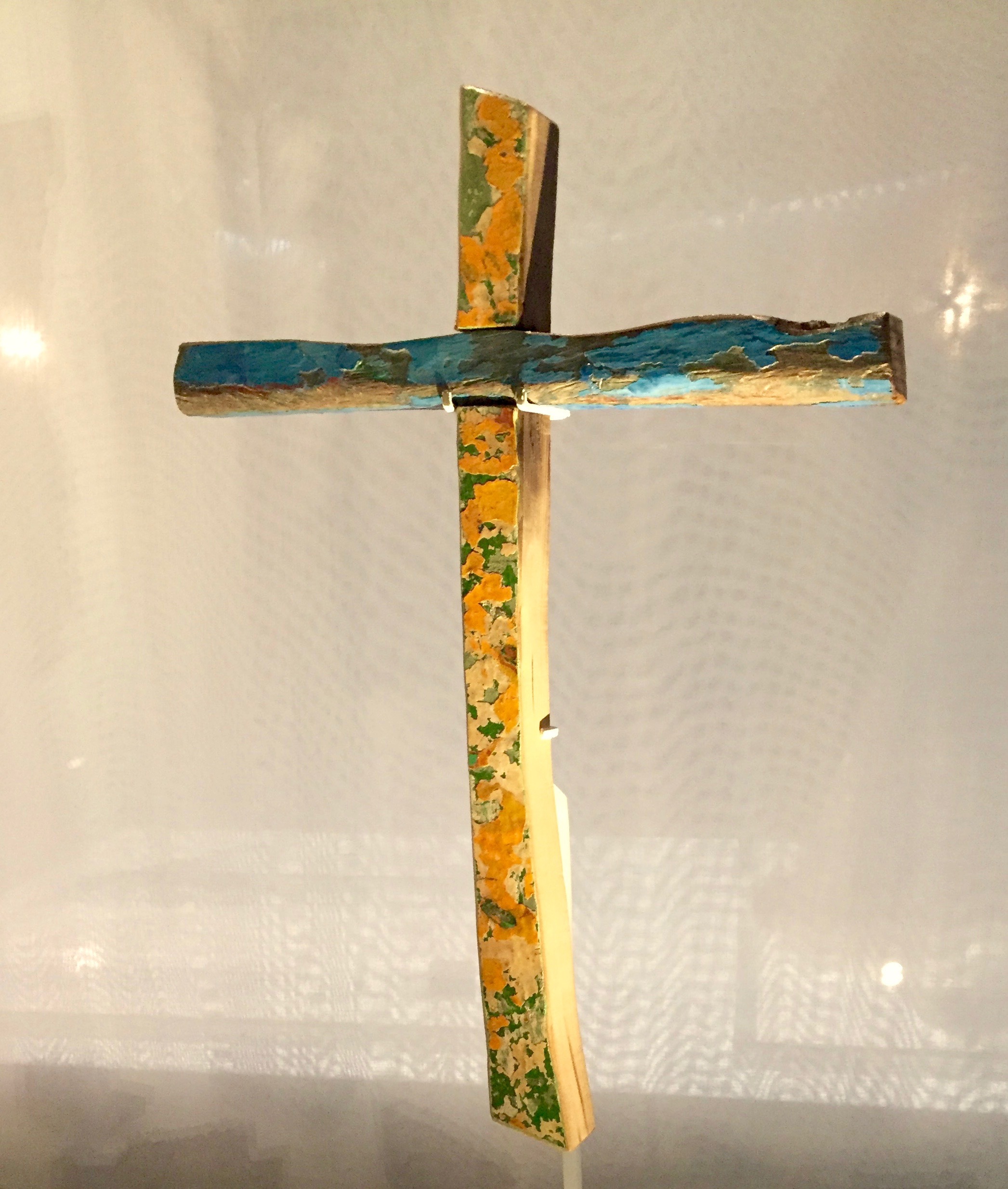 The conceptual art work It is wholly indeterminate (1970) by Robert Barry is the final piece in the exhibition.  It consists of a text on a white wall, reading:
"IT IS WHOLLY INDETERMINATE
IT HAS NO SPECIFIC TRAITS
IT IS ENTIRELY INEFFABLE
IT IS NEVER SEEN
IT IS NOT ACCESSIBLE"
This text poetically (and satirically)  sums up the idea of the Beyond which many of us try to comprehend through a system of belief, which we call religion. But the American artist originally didn't have religion in mind. His target was the slightly smug 60s art scene, but most people would agree that the words — or is it a message? — are a perfect fit here.
We are living in an era that is full of some imagined, and some real uncertainties. Many of the current conflicts are based on religious beliefs and there is even a nuclear threat on the Korean peninsula. In a not so distant past many people would in similar situations have found some solace through their faith.  And yet in today's world the decline in church attendance seems unstoppable.  Instead people turn to concepts like 'mindfulness' that are in a way even more ineffable than 'pure' religion. Mindfulness is of course a therapeutic method that finds its point of departure in Buddhist teachings.
Holding a minute silence, laying down a bunch of flowers (still in its cellophane)  wherever a person has died, are fairly new rituals that have replaced religious traditions like saying prayers.  Maybe little rituals like these will eventually be incorporated in a new religion.  We are due one. The last major Christian religious revolution was the Reformation. That was exactly 500 years ago.
It is unlikely that this exhibition will leave you cold, disengaged or bored. But reserve some time for an opportunity to reflect and maybe discuss the positive sides of religion. Sorry to proselytize.
You can also listen to Neil MacGregor's fascinating radio series  connected to this exhibition:
http://www.bbc.co.uk/programmes/b09c1mhy/episodes/player