MC gangs, a tentative teenage gay love story, a professional sharpshooter, an undercover infiltrator for a secretive police unit, a female detective, a criminal boss with international ties, his young daughter, a pedophile and a host of other more 'ordinary' characters keep the viewers of this Norwegian crime series on the edge of their seats.
Four killings in a matter of seconds in the opening minutes of the first episode (of a total of six by the end) made me engage totally, to start with. But in that first episode we are also bombarded with so many different characters that there is no time for slouching on the sofa.
Philip and Henning, two 15-year old boys, racing at night on a MX bike end up in a sand quarry where they get emotionally entangled. Before they know it a car has pulled up and the youngsters witness a massacre of four members of an outlawed motorcycle (MC) gang. The naked marksman then spots one of the eyewitnesses but is knocked out by the other teenager and left for dead. The boys flee with the murder weapon and decide to stay shtum, to avoid adults asking questions about their special friendship.
Initially all the action takes place in the small community of Mysen outside Oslo where Philip's foster mum Helen Sikkeland happens to be the chief of police and a very experienced detective.
The boys are potentially in serious trouble when it turns out (warning: slight spoiler) that the killer is still alive. At the same time the police investigation appears to have come to a dead end. More apparently unrelated deaths follow. Philip and Henning seem to be the only ones who can provide some vital clues. Will they talk before the sharpshooting killer hunts them down?
This dark ( warning: cliché coming up) Nordic thriller is terrific until, about part three. This is when the investigation gets seriously stuck,  the weaknesses appear and the script starts to unravel.
The seemingly unrelated subplots are a fine and tested method to keep the audience on tenterhooks, but if you have too many characters you can end up not properly developing any of them. The only fully rounded characters (and therefore the most believable) are the two youngsters. Wide-eyed Philip (Axel Bøyum) is a fabulous talent who has a great future, possibly even on stage. The smouldering Henning (Odin Waage) is equally good with an extremely Nordic look.
These newcomers make Øyevitne very watchable, but Eyewitness isn't quite the classic it could have been.
Jarl Emsell Larsen is one of Norway's most experienced scriptwriters and directors, but unfortunately he has missed a few opportunities here.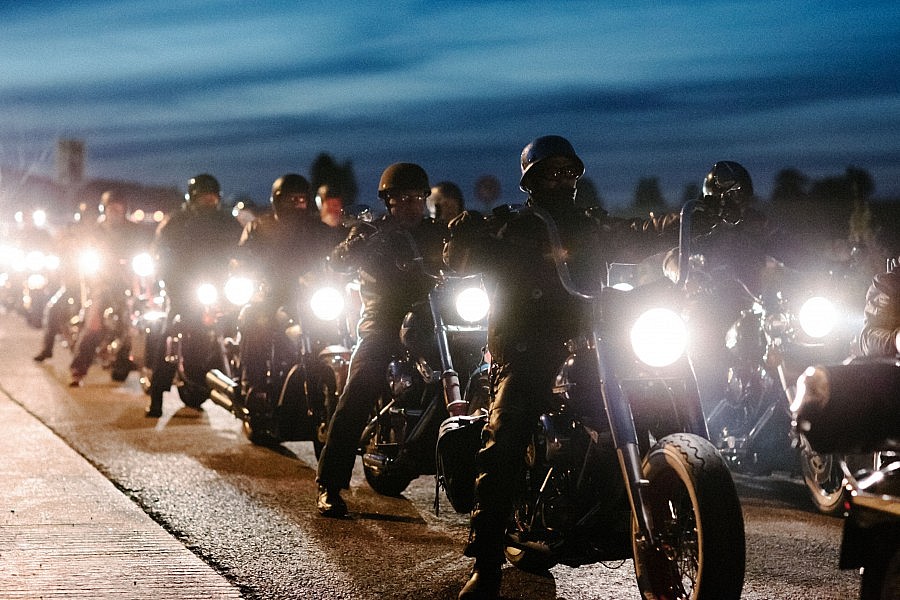 Outlawed MC-gangs can be very powerful and much more scary that they are portrayed here. They tend to have their tentacles in the police force as well. If you kill four MC members it will have cataclysmic effects and spark a gang war that ends up like the last act of a Shakespearean drama. We get to see plenty of hardware (bikes, helmets and clubhouse) and a nasty beating but the brutal MC aspect is underused and more or less dropped after a while.
Detective Sikkeland (Anneke van der Lippe) also makes some very incompetent decisions that really should have seen her fired. It didn't help that I didn't find her a sympathetic character.
My mother tongue is Swedish and I understand much of the Norwegian dialogue and in general it is good and credible (don't worry, there are subtitles), but sometimes pictures say more than words. The stunning Norwegian countryside and the Oslo cityscape could have been used more effectively (see Wallander, Bron and Borgen).
But there is enough going on to make this a worthwhile purchase for
people desperate for some fresh Nordic Noir.
I give Eyewitness 8 stars for the first three parts and 6 for the consequent three episodes.
Eyewitness (Öyevitne, 2014) is released on DVD 14 September from Simple Media, in the UK.
See the trailer here: https://www.youtube.com/watch?v=iod3se4mvE0
You can purchase the TV/series here: http://www.moviemail.com/publisher/136/Simply-Media/