The days are getting longer and before you know it the Spring/Summer music festival season is upon us. All right, that was a (snow) white lie. It is still seasonally cold in the UK and I just peeked out between the curtains and it has started to rain. Oh joy! I'd much rather frolick in the snow, ideally in a Swiss alpine setting. I am starting to pine for Verbier and the best of both worlds – mountains and classical music. I was there last year in July for the yearly festival. The snow was clinging on to the highest peaks and craggy rocks, while the meadows were basking in the sun. Up on Mont Fort (3 329 m) you could spot Mont Blanc's icy hump in the far distance. The snow cover (which leads to increased UV levels) and the sun were conniving to turn my rather high forehead a crabby red. The evidence can be found in the photograph below. It was the third week of July and this was my first visit to the Verbier Festival. And my third visit to Verbier. I have visited twice previously, in the distant past, for a skiing holiday. It is a fantastically versatile place for ski enthusiasts and thanks to the Verbier Festival's director Martin Engström the town (with only some 3.000 permanent residents) has also established itself as one of the highlights of the Central European festival season.
There can't be many destinations that offer a more inspiring setting for classical concerts. Clearly some of the major stars in the classical music firmament agree with me, because each year Martin Engström and his team manage to attract so many of them. The Verbier Festival fills seventeen days ( 21 July 21 – 6 August, 2017) with concerts, workshops, learning experiences  and conversations taking place in various venues all over town. But when the weather gods offer an open blue sky smile it is hard to resist your inner wanderlust.
There are some 400 kilometers s of mountain bike trails suitable for riders of all levels (and a similar amount of marked ski runs in the whole 4 Vallées area). During my three day stay the weather was, except for the odd evening downpour, anything between pretty good and stunning. For me there wasn't much time for play, but I wouldn't mind working in this kind of environment more frequently.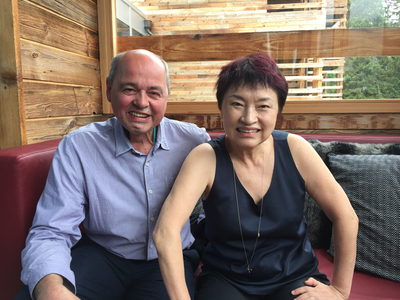 I had an opportunity to interview the South Korean violinist Kyung Wha Chung and wanted to know if it made any difference to her to perform against a backdrop that is fairly reminiscent of the Sound of Music scenery. Kyung Wha Chung had a couple of days earlier opened the festival with a splendid performance of the Brahms violin concerto.
"Nature for an artist is such a direct connection to the music… When I was playing Brahms concerto, Brahms loved nature more than anybody. Like Mahler loved nature. You take in the wildness of these mountains. When I played a recital in Baden-Baden I know that I was treading the place that he walked, to perform Brahms concerto with Vienna Phil, recording there. Brahms was standing right there. Nature is important for everyone. Music started in nature. Sound of the wind, sound of the bird, sound of the thunder. It is all in nature and it is all music. "
So, maybe the mountain air can enhance a performance. Kyung Wha Chung (68) was a huge star in the 70s and 80s, but an injury to her left hand in 2008 put temporarily a stop to her performing career. She has made a full recovery and in May she will perform JS Bach's complete sonatas and partitas in a concert at the Barbican in London.  More details just click here.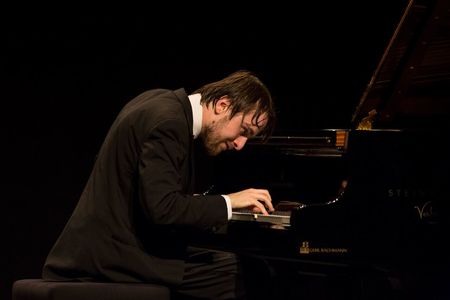 The highlight of my splendid sojourn in Verbier was experiencing the super virtuoso pianist Daniil Trifonov in action for two solid hours. The Russian has over the last five years taken the major concert halls by storm. Many of his colleagues were present in the Salle des Combins and they may not always have agreed with his at times idiosyncratic interpretations, but at least there is never a dull moment. Trifonov showed off his wide ranging palette in a sensitive and luminous interpretation of Schubert's piano sonata in G major, D 894.  Then he pulled out some of the stops with Brahms' devilishly difficult Paganini variations. After the interval, when I thought I had seen it all, he took on Rachmaninoff's first 'Faustian' piano sonata. This is a bastard (the second is more rewarding), going off in all directions, low on melodic poise and firing on all cylinders in the last movement. Trust Trifonov to tame the beast, and make it roll over on its back. I have never heard it performed more convincingly, although it is rather long.
Many of Trifonov's performances can be watched (for a modest price) on Medici.TV on YouTube:
Why am I regaling you with concert reviews of the past?
First of all, I really think the spectacular setting and the mountain air brings out the best in many musicians, who very often also bring their own family to stay in a chalet or apartment for a couple of days or a week.
Secondly Daniil Trifonov will be back this year for four concerts. He will play Mozart's piano concerto no.25, accompany the bass Ildar Abdrazakov and participate in two chamber concerts. The details can be found here.
This year Verbier will focus particularly on piano music. Some 20 pianists will give solo recitals. That is more than one a day. When you look at the names, it means that over a period of two weeks in July and August the absolute pinnacle of piano playing can be found in a mountain village in the Canton of Valais. Here are some of the pianists on show:
Pianist Kirill Gerstein, Evgeny Kissin, Richard Goode, Nikolai Lugansky, Grigory Sokolov, Vladimir Feltsman, Yuja Wang, Barry Douglas.
If appearing at the World Economic Forum in Davos is the glittering highlight  of the year for any economist , this year at least,  the Verbier Festival  must be considered the absolute summit of piano playing.
More on Verbier and Martin Engström, the founder and executive director of the Verbier Festival in the near future.