Seen in Bayreuth August 2016
While listening to the melodramatic and wave tossed overture of
The Flying Dutchman, I realise that this could be the perfect introduction to Wagner for a young person. The main character and his crew are undead, which doesn't stop the female lead, who is very much alive, from loving him unconditionally. There are rousing choruses and then there is that fight between the Dutchman's zombie crew and Daland's sailors. The music is right from the start accessible and quite filmic. Wagner is not associated with arias that are earworms, but listen to the Holländer's opening monologue 'Die Frist ist um'and you will be able to hum it straight off.
This production has been revived a number of times since 2012 with many different soloists. The curtain doesn't rise during the overture and the opera is played without a break, as Wagner originally intended. Excellent decisions by director Jan Philipp Gloger but it does take some time to adjust to the setting. Forget the salty sea dogs, the maritime backdrops and spinning ladies. In this production we move in the turbulent financial world of today, where a bag of money can buy you the daughter of a fan factory owner.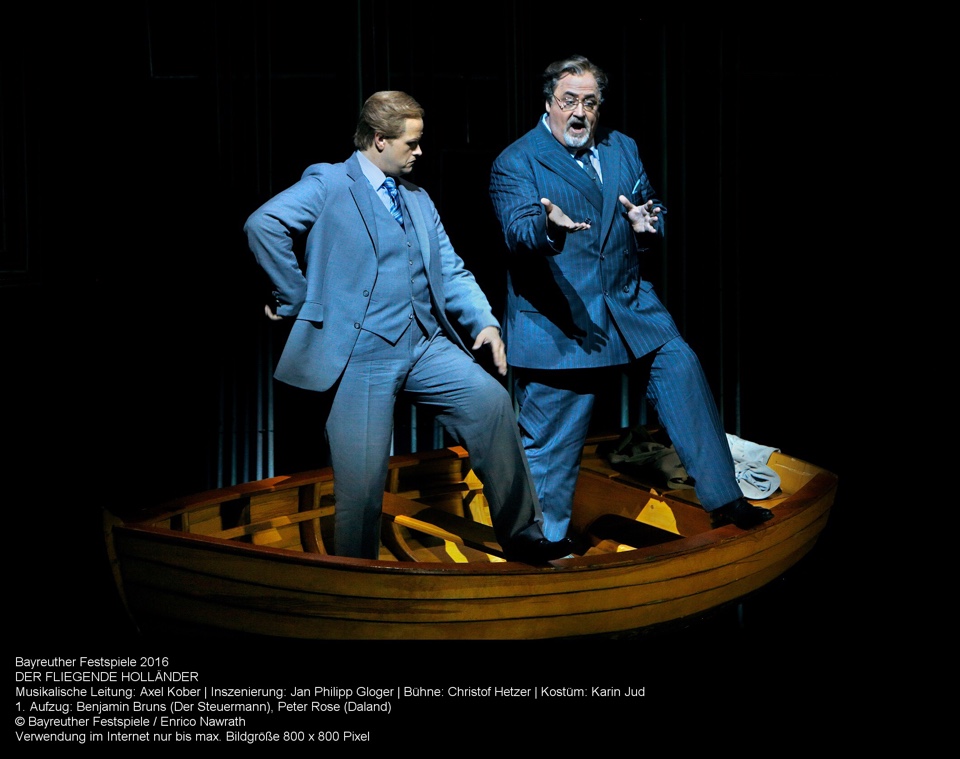 When we join the action Daland (Peter Rose) and his Steuermann (Benjamin Bruns) are sat in a tiny rowing boat dressed in suits. This particular Daland is bit of a buffoon and Rose is convincing enough as the garrulous sales person who trades his daughter for a treasure. The steersman comes across as the only reasonably normal person, who like many of us, falls asleep on the job. Benjamin Bruns is a patient 'straight man' (to Rose's 'comedian') with a pleasant tenor.
But when the Holländer (Thomas J Mayer) appears with his cabin size luggage and dressed for business, the mood changes. He is attended to by a bell boy, a stewardess and a masseuse, but will have none of that. The set indicates that we are in a digital age with flashing numbers crediting or debiting the characters' fortunes.
Thomas J Mayer is a solemn, no nonsense Dutchman and his bassy baritone reflects that. This a man who has been touched by the financial crisis for the past seven years  and will give away his total fortune for a loyal wife who is not just a trophy. He actually needs a woman's unconditional love  to  redeem himself and  finish his never-ending journey. Bossy warehouse foreman Mary (Nadine Weissmann) tries, but fails to silence Senta (Ricarda Merbeth) singing her ballad, during working hours, about the man of her dreams, the Flying Holländer. Senta carries a mysterious effigy of the Dutchman made of driftwood(??), but don't ask me why. Merbeth doesn't attempt to make Senta  saintly, like Elisabeth in Tannhäuser.  The spinning women have been replaced by ladies in powder blue uniforms packing electric fans in boxes in a warehouse. They still sing the 'Summ und brumm' chorus, and while they are packing they take on silly poses that are reminiscent of 'seductive' 50s advertising (see picture). Gloger, the director, has opted for a lot of comedy and in general has handled it pretty well.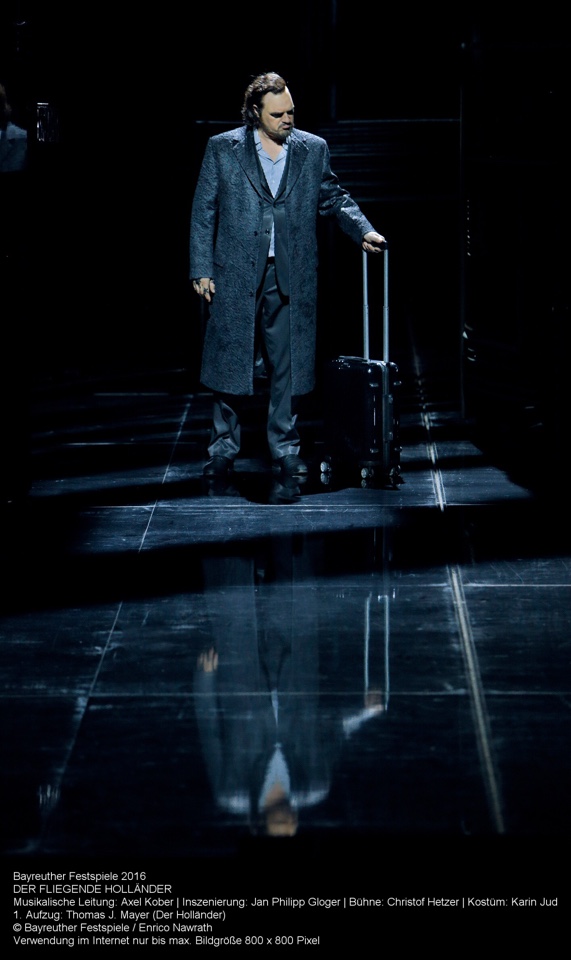 The  huntsman Erik (Andreas Schager), Senta's admirer,  has been turned into a slightly dorky handyman working in the warehouse . Schager is  a heldentenor that presses all the right buttons in my ears and he probably was a much better Parsifal than Vogt, who he recently replaced at short notice in Bayreuth. Here  it is clear that Senta's relationship with Erik  was no more than a dalliance, despite some heroic singing by Schager.
The Dutchman is being shown around the electric fan factory by Daland, who seems to own the place. Well, it is love at first sight when the Holländer and Senta meet on the factory floor.  During the love duet 'Wie aus der Ferne längst vergang'ner Zeiten' puts on her black wings that she has made  out of cardboard boxes. Oh, don't ask. It means something, or other. Mayer (Dutchman) is a somewhat dour lover but Merbeth (Senta) is a real spark.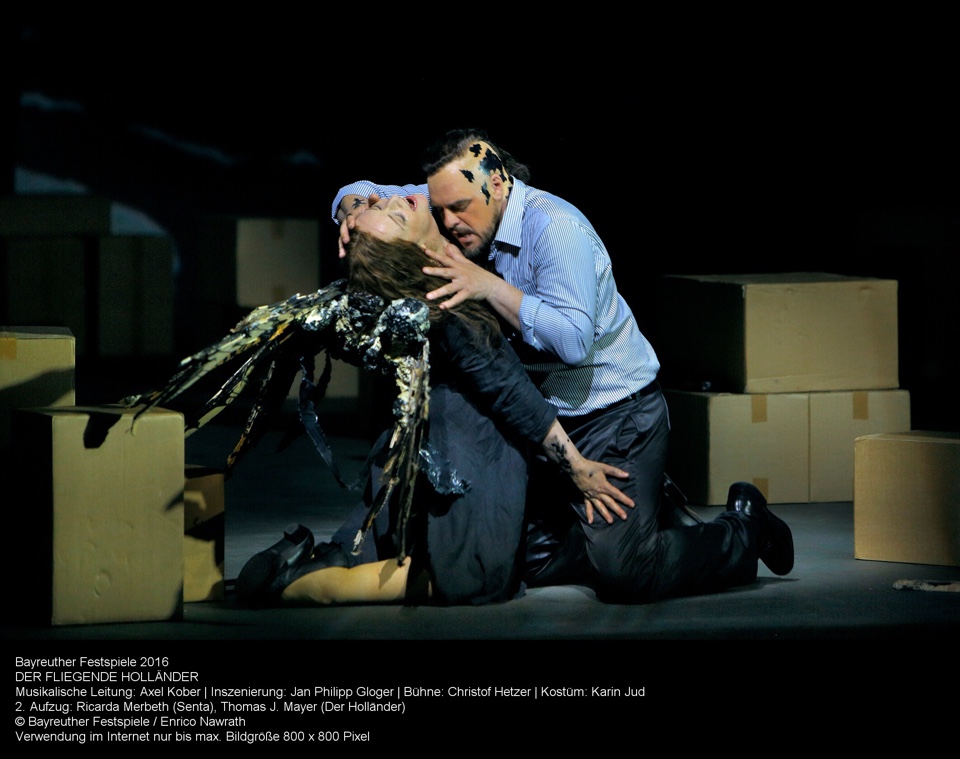 In the third act Erik triies to persuade Senta to come back to him  and it produces some of the evening's most moving singing.  Schager  has the light brilliance in the upper register that very few of today's dramatic heldentenors possess.
The zombie theme is fortunately not stressed and Senta and the Dutchman of course don't end up united under the waves as there is not a hint of the sea to be seen in this production. Instead they end up in each other's arms on top of a heap of cardboard boxes. It is a  bit of an anti-climax. But who cares after such an entertaining evening.
I can't praise the Festival orchestra enough and conductor Axel Kober whipped them occasionally up to play as loud as I have heard them play in the Festspielhaus, where Wagner made it very difficult to crowd out the singers.