TEFAF  in Maastricht, 9-19 March
The Maastricht Treaty is already a fading (bad) memory for most British people that voted for Brexit.  But the city of Maastricht deserves to be associated with some positive things as well.  André Rieu, the world's most popular violinist, hails from this city in the Southern Netherlands. If Rieu's schmaltzy way with the classics is not your cup of tea,  the European Fine Air Fair (Tefaf)  will most certainly not disappoint.
There may be better fairs for contemporary art or design, but there is no other event that is as comprehensive as Tefaf.  Old masters and antiques still dominate , but there are plenty of dealers  that specialize in contemporary painting, design , jewellery,  rare books, drawings, Oceanic art …. you name it, the list is endless. This year there are 275 galleries from 21 countries represented at this magnificent showcase .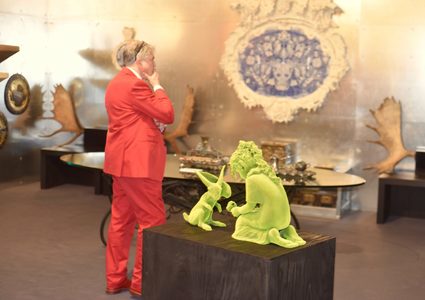 Most of the tens of thousands of objects are of museum quality and it is no wonder that every year over 200 curators and directors from the world's leading museums, visit Tefaf to see if they can find something they can add to the collection.
This year there are no headline-grabbing works of art, like last year's recently identified early  Rembrandt. But in general I found this year's show one of the most satisfying fairs out of the five Tefafs I have visited in total. I am sure my verdict is purely subjective, but at the same time I think this year the mix of recent, ancient, modern, old and contemporary is close to perfect.
My favourite contemporary work is 'Maria (2001) in Guadaloupe'  by the Swiss artist Franz Gertsch, whose work is presented by the Norwegian Galleri K.  You can see part of Gertsch's giant woodcut in cobalt blue in the featured image at the top of the page. The source was a 30 year old slide taken by the artist of his nude girlfriend sleeping in the shade on the Carribean beach. This picture he transferred on to 380 x 528 cm sheets of Japanese paper. It required 3 large woodblocks to produce the image, but the result is stunning.  The turquoise colour filters out the soft pornographic element while at the same time making it more sensual. Unfortunately the piece doesn't quite fit above my bed and the prize needs to come down from here to Guadaloupe (SFR 400.000) before I can even contemplate building an extension to my bedroom.
I am also a fan of Kim Simonsson's sculptures and the New York gallery Jason Jacques that represents his work. Kim's moss people (see picture above)  relate to the special magic radiating from the ancient woods of my and Simonsson's country of origin, Finland.  When you walk alone in a remote Finnish wood you can get the feeling that you are being watched by these kind of fluorescent green creatures of the forest.
Tefaf is like visiting four major museums at the same time. And when you return the following year there is a whole new collection with another 30.000 object from across the ages. This fair can boast  objects  dating back 7000 years.
The fact that the fair is held in the Netherlands means that you will always find some very impressive Dutch Old Master paintings . Johnny van Haeften, who is also one of the founding fathers of Tefaf, always comes up with the goods. But this year his showpiece is somewhat problematic.
The pendant portraits of A man and a woman holding a pair of gloves have been painted by Frans Hals in 1637.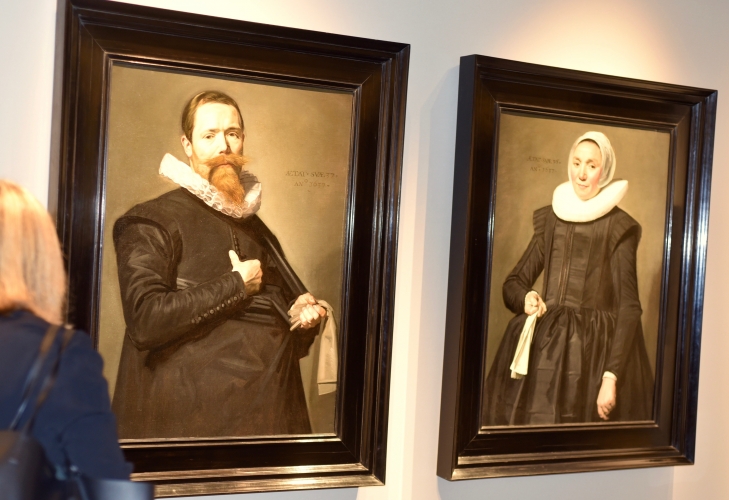 The couple would have exchanged the gloves with one another during  the ceremony that celebrated the signing of the betrothal contract. The identity of the sitters is unknown but we know their age and because they are dressed so soberly in black, experts believe they were Mennonites. The style is typical of Hals and he conveys  a lively naturalness  that few of his contemporaries could equal. The man, holding a hand on his heart,  is more self-conscious and artful, whereas his ruddy cheeked wife seems slightly  bored – or is there a smile about to break through?
The problem is that last October Sotheby's revealed that A portrait of a man that the auction house had sold in 2011 for about $10 million , was a very clever modern forgery.  Obviously the buyer was reimbursed  but it made many experts who had declared that the portrait was a "national treasure" look like fools.
I think Van Haeften's portraits are considerably better than the forgery and definitely more convincing. But buyers are for now very cautious and this may not be the time to sell a Frans Hals. Or maybe it is. You could try to get a bargain. The paintings have now been on the market for a while.