Recently the Berlin Philharmonic with Sir Simon Rattle at the helm released the complete cycle of Sibelius symphonies. The general level of playing is very high, as you would expect from one of the best orchestras in the world with a true 'sibelian' in charge, but not all the interpretations are spotless. In this first blog of two on the subject of Sir Simon's latest Sibelius recordings, I want to find out why the Finnish composer is much more popular in Britain than in Germany.
I went to Berlin at the end of August to interview Sir Simon Rattle, before the recordings had been released. But I knew more or less what to expect, because I attended one of the Sibelius concerts that the Berlin Phil gave back in February at the Barbican. I also listened to the whole symphony cycle on the radio (BBC radio 3).
"Five years ago we did our first cycle and the third [symphony] had never been played in public by the Berlin Philharmonic. And many of the pieces very little played. What has been fascinating is watching the orchestra go from incomprehension to admiration, to taking it on. That has really been a process."
I did get the impression that this was one of Rattle's pet projects and he has probably waited patiently to be able to tie it in with Jean Sibelius' 150th anniversary year. I don't think Sir Simon could have left as chief conductor of the Berlin Phil (which he will do in 2017) with a clear conscience without having reintroduced the Finnish composer's symphonies to this splendid orchestra's repertoire.
So little Sibelius has been played in Berlin since the 80s that it must have felt a little bit like learning a new language for most members of the Philharmonic. It is today a very international orchestra (26 different nationalities are represented) with many of the members still in their 20s. This doesn't make them worse musicians than the older ones, but it does mean that there will be a quite a few scores that they are unfamiliar with. Very few Austro-Germanic orchestras have Sibelius in their repertoire.
Rattle recorded all Sibelius's symphonies and a number of tone poems during his 18 year tenure as the chief conductor of the City of Birmingham Symphony Orchestra. He knows his Sibelius very well but nowadays a conductor can't dictate to an orchestrate and particularly not one with the stature of the Berliner Philharmoniker.
"Of course one thing you will have to learn as a conductor is that you cannot come to an orchestra saying: This is how it will sound. "
In hindsight the Sibelius symphony cycle the Berlin Phil did five years ago was a dry run. Maybe it felt to Rattle like they weren't quite ready to record at that point. The second time around I get the impression that Rattle has tried to dig a little bit deeper. He tells me that the symphonies can seem deeply mysterious : "Even when it appears straightforward in the symphonies, it often isn't. Working in Germany, the whole language, the whole syntax, the whole idea of tonality, rhythm and development, it is such a different journey. It is a different journey from the Austro-Germanic journey entirely. "
It certainly helps to know your Beethoven, Wagner and Bruckner when you study "Janne's" scores (Janne was Sibeliuses's name among friends).
It may be a stereotype, but Germans are more likely to question things they don't necessary fully comprehend. This is not a bad trait but sometimes this can lead to intellectualization when a more emotional or intuitive response is called for. Rattle is very aware of this but doesn't mind as long as the orchestra keeps an open mind.
"In Germany there is always the feeling that… how do we find our way through this? But this has been actually fascinating. Because it is people with open eyes saying: OK, what is this?  Even in terms of technique. How do you play the violin? For an orchestra that plays so much spiccato in the middle of the bow. A composer for whom that almost doesn't exist where you have to play almost everything at the tip, where there is this kind of mystery between the notes, it is simply extraordinary."
Rattle thinks that British musicians have an advantage when it comes to Sibelius; his music is almost in their blood.
"[Conducting in Germany ] has been fascinating, coming from Britain, whatever our faults, it has always been at the back of our brain how this sounds."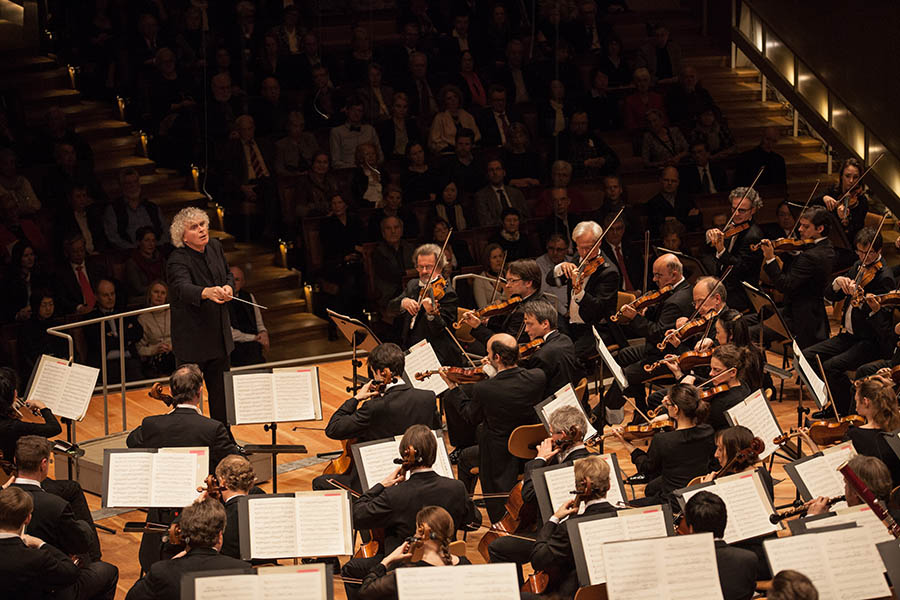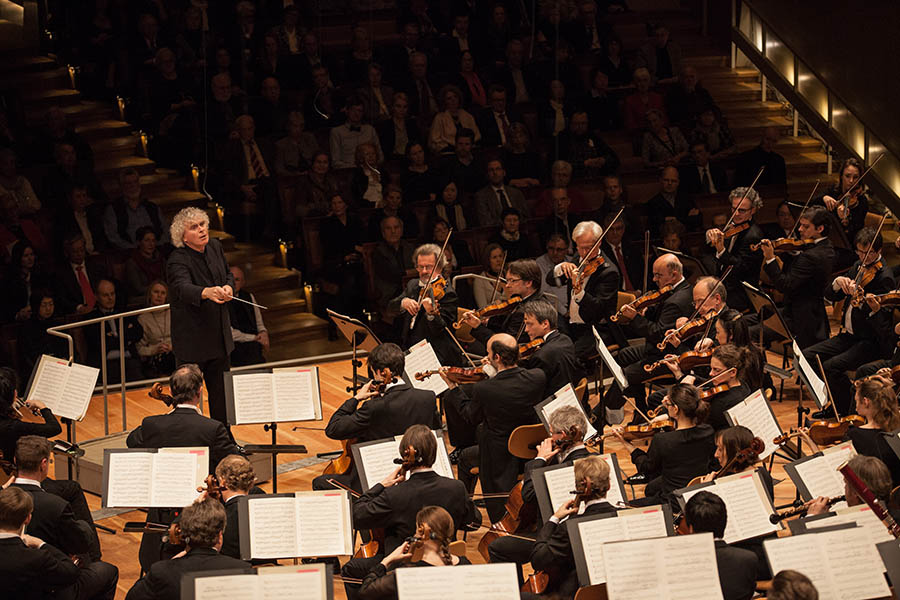 Judging by how Sibelius150th birthday has been celebrated over the past year in the UK, you wouldn't be wrong in assuming that he must have been British as well. Of course he wasn't and he didn't even speak English.
Jean Sibelius (1865-1957) first visited Britain in 1905 and consequently returned four more times. The first world war made it impossible for "Sibbe" (another nickname) to travel, but when he returned in 1921 it was in many ways a resounding success. Despite many invitations this was to be his last visit. His popularity continued to grow in the 30s and 40s greatly helped by conductors like Sir Henry Wood, Sir Thomas Beecham and Sir Adrian Boult who not only programmed his works but also recorded them. These recordings from the 30s, 40s and 50s have recently been rereleased by Warner Classics and I endeavour to devote a blog to many of these fascinating historic recordings at a later date. Despite a slight backlash in the 60's and 70's Sibelius's reputation never waned in the UK. Sir Colin Davis and Rattle were in the 80s and 90s the most important supporters of the Finn's music and every Proms season would feature at least a couple of his compositions. Rattle has found that in Britain playing Sibelius is the most natural thing.
"We are a very open nation. Although it took a long time for Bruckner to be accepted in England, which is interesting. Because there are many similarities between Sibelius and Bruckner and maybe Max Reger will never be accepted. Other than that it has been open to every different type of music. From the word go, [Sibelius] was always part of Britain's music making. When I went to Birmingham it was one of the very first things we did. Work on Sibelius and use it also to build an orchestra because it makes such very particular demands and it was something that we could play and tour and other people weren't. There I was, 25, and the orchestra was a very young orchestra. They weren't going to go around Europe touring Brahms symphonies. But Sibelius always seemed the most natural thing. I grew up in Liverpool and there it was played all the time. I was stunned to find out that in Germany this was not the centre of the repertoire. That was how ignorant I was."
In Germany Sibelius was unfortunately 'adopted' by the Nazis who admired his references to nature and the mythological aspects (Kalevala) of his music. This clearly tainted his image in Germany after the war. The German philosopher Theodor W. Adorno already in 1938 started a veritable hate campaign against Sibelius (as opposed to Mahler and Schönberg who he revered). The rather odious Adorno argued in books and lectures that his music instead of being "deep", was "a product of technical deficiency". Adorno, a composer manqué, managed to influence many music critics and young composers.
Fortunately distinguished conductors like Hans Rosenbaud, Herbert von Karajan and Sergiu Celibidache made sure that Sibelius' music wasn't totally forgotten in West-Germany. Apparently Sibelius himself in a conversation with the legendary producer Walter Legge declared that "Karajan is the only (conductor) who understands my music".
In the 60's and 70's the Berliner Philharmoniker, with Herbert von Karajan at the helm, was considered one of the best interpreters of the Finnish composer's works. After von Karajan's death in 1989 the Berlin Phil by all accounts fell into a bit of a slump (the process had actually already started during the ailing maestro's last years). It took Sir Simon's predecessor Claudio Abbado a number of years to reinvigorate the orchestra and he actively started recruiting younger musicians. But Abbado to my knowledge never played Sibelius. I find it astounding that Sibelius was virtually ignored for two decades by one of the world's leading orchestras. Bless Rattle that he has put it right.
"You have to approach the Sibelius symphonies with the Berlin Philharmonic through depth and richness and find a way in which that sound works."
In the next 'instalment' I will let Sir Simon do most of the talking as he tells me about his Sibelius mentor (Paavo Berglund), some of the problems he encountered working on the symphonies and reveals his favourite work by the Finnish master, a work that he has seldom played and never recorded!!