Debussys's opera Pelléas et Mélisande is based on Maurice Maeterlinck's symbolist play. Let me first establish that symbolist in this context equals mysterious. Most prominent symbols: water and (female) hair. The character of Mélisande remains a mystery throughout and the music doesn't help; it consistently refuses to dissolve or resolve the character's  mysterious behaviour. The music's opaque and spectral nature perfectly envelops the singers in dream-like chord progressions. Occasionally (particularly in the interludes) Debussy allows the music to soothe the listener but in general it wavers somewhere between inherent emotional chaos and fatal solution.  Who is this seductive princess Mélisande and from whence did she hail? Did Mélisande and Pelléas actually consume their love?  Whose baby did Mélisande carry?
Sir Simon Rattle has conducted no other opera as often as Debussy's masterpiece. This semi-staged concert performance was premiered last December by the Berlin Philharmonic. The cast remained unchanged in London, but instead Sir Simon led the London Symphony Orchestra (LSO), which he will take over in 1 1/2 years time.
Technically this was a concert performance but when you have a director like Peter Sellars in tow you can't expect half measures. We get treated to quite a lot of stage action and the singers certainly don't hold back on the acting. For Debussy's opera you do require singers who really can act. After all, there are no real arias and  libretto doesn't stray far from the stage play.
The only aspects that distinguish this from a staged production are  the lack of a real set, costumes and props. But I realised early on that  I didn't really miss any of that.
The singers move between different small stages set up mainly in front and behind the orchestra. Each of these 'stations' is dimly lit up by coloured neon tube lights. There are also 'paths' leading through the orchestra section and I was surprised to read that Sellars with this concept  follows the composer's wish. Debussy suggested that the orchestra could act as a symbolic forest.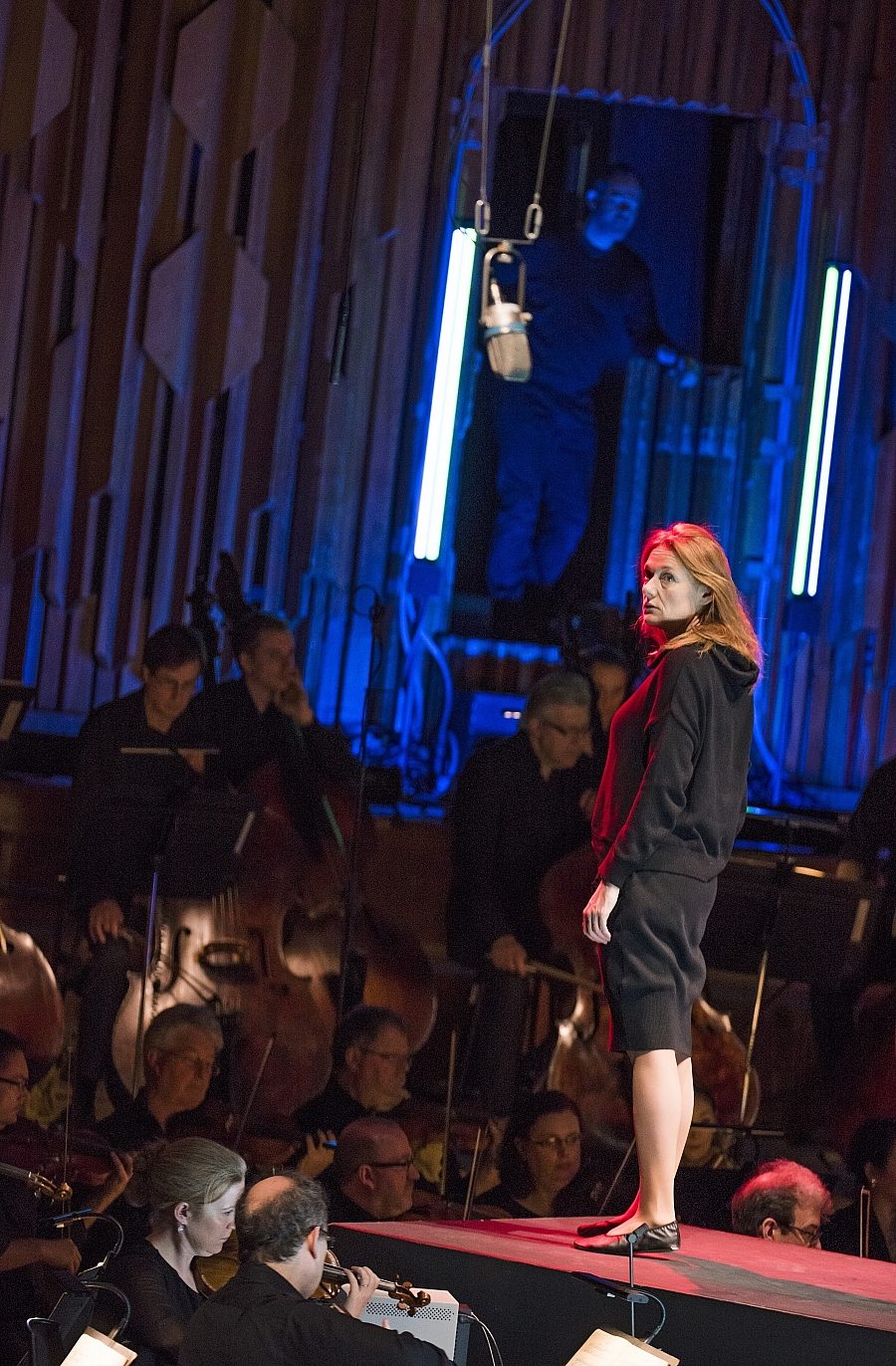 Mélisande is discovered weeping in the forest by Golaud,  who himself is lost. Mélisande is sitting by a stream in which she has dropped her crown, but she doesn't want Golaud to retrieve it. Why not? We learn that she has arrived by ship and in the play (not the opera) Maeterlinck reveals that she has escaped from Bluebeard's castle….. Ah, now that could explain some of her irrational behaviour!
She casts a spell on the men she comes into contact with and they all want a piece of her.
The mezzo soprano Magdalena Kožená, Sir Simon's wife, is in excellent form and I can't fault her acting. She is both alluring and genuinely naïve, but shows signs of cunning as well. Kožená makes Mélisande's loss of the ring playful and very deliberate. Is she in love with falling in love, I start to wonder? She certainly is in need of a lot of loving attention. Debussy himself observed that Mélisande doesn't change throughout the play. Magdalena Kožená does some impressive on-the-verge-of-hysteria singing. OK, I would have preferred a slightly younger, perhaps lighter and silvery timbre, but if it is a performance you are after, Kožená's acting more than makes up for the age difference.
Baritone Christian Gerhaher (Pelléas) is very much the man of the moment, particularly in London where he is Wigmore Hall's artist-in-residence. The indecisive and immature Pelléas he portrays is fairly uncomplicated compared to Mélisande but the demands on the voice are still considerable. In the first three acts there are plenty of Cs and Ds and in Act IV he is required to tackle a few high G#s and even an A. Gerhaher has the ideal light register as well as the lower range, but visually he is a little bit too mature for the role.
The star of this production is without a doubt the Canadian bass-baritone Gerald Finley. His smouldering Golaud is convincingly jealous and irascible. Understandably he is hurt that his wife Mélisande quite casually shifts her amorous feelings towards his half-brother Pelléas. But why does she almost willingly submit to Golaud's mistreatment of her? Does she think she deserves it? Finley shows us a devoted, but very possessive man who always is close to the point of inner combustion. Golaud's grandfather Arkel (Franz-Josef Selig) seems to be the only voice of reason until he in Act IV scene 2,  instead of comforting Mélisande,  gets a little bit too frisky with his daughter-in-law. Selig is perfectly solid, imposing and very sonorous indeed. Golaud's son Yniold (Elias Madler) is in this production movingly sung by a young boy from the (Bavarian) Tölzer Knabenchor.
I have also watched, courtesy of the Berliner Philjarmoniker's digital concert hall, the earlier German interpretation of the opera. I found it impossible to hear the difference. Simon Rattle has managed to extract remarkably similar performances both from the cast (which was the same in Berlin and London) and the two orchestras. Peter Sellars's concepts are fairly straightforward and service the plot very well. There is an awful lot of touchy-feely in his direction, but that is the modern age for you.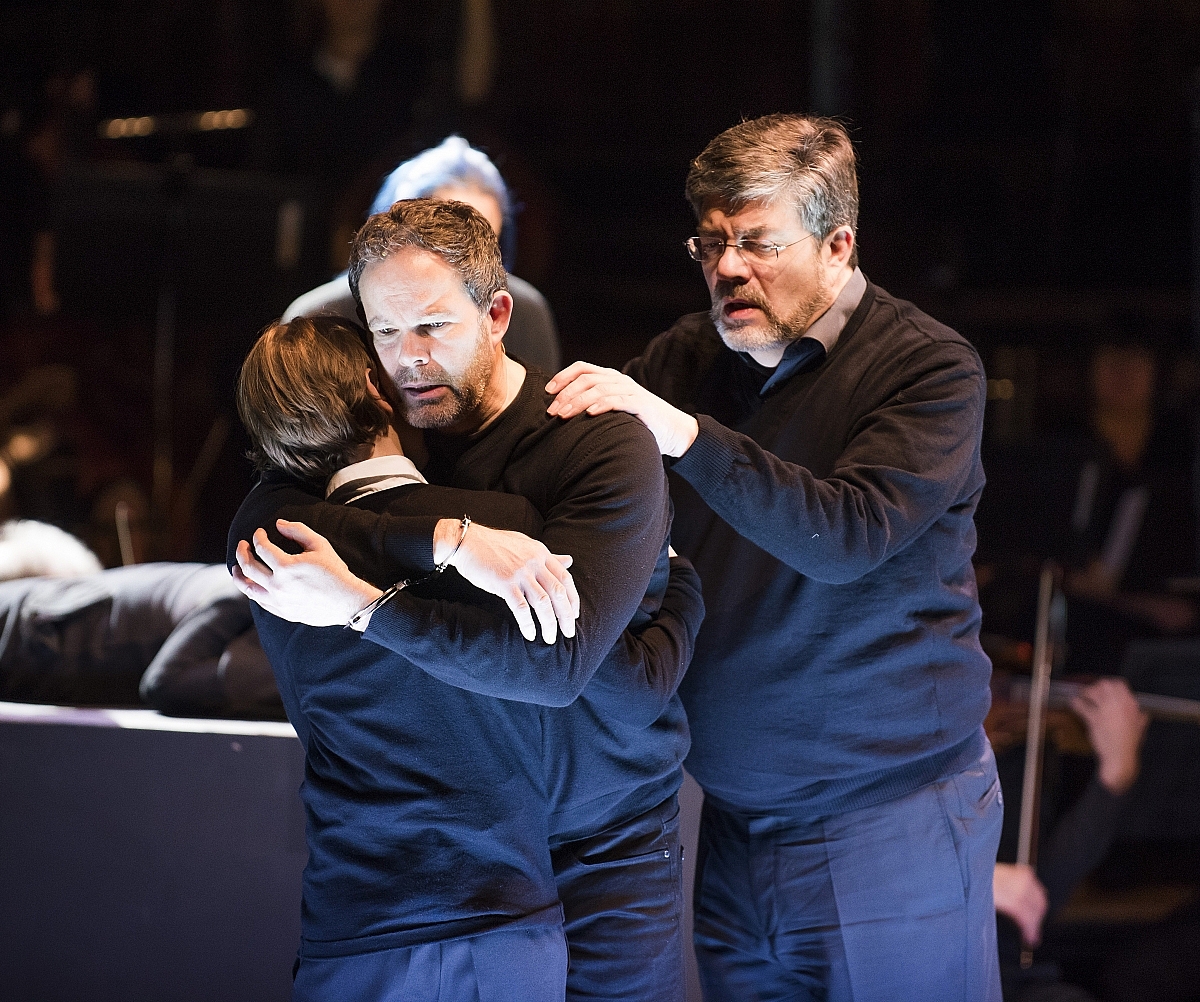 Debussy wrote a kind of mood music that throughout seems to spell out 'FATAL'. All the characters are clearly flawed. No, as a matter of fact, they are doomed. The two true lovers will inevitably have to die. Death lurks in the shadows and that perhaps explains why the concert platform most of the time is plunged in darkness. Simon Rattle has struck musical gold. Some interpretations can turn the whole opera into a dream-like fog, while others give the post-Wagnerian moments free rein, thereby creating a rather thin Tristan. Rattle has wisely opted for relative simplicity and clarity first. To achieve that convincingly you need top class orchestras like the Berlin Phil and the LSO. Just play the notes and the mood will come (sort of),
Quite a lot of the action takes place centre stage on a small, raised platform next to the conductor.  This means that in many scenes Rattle is as much in the spotlight as the singers. Orchestra, conductor and singers are, more so than in an opera house, literally on a par.
Simon Rattle dedicated the performances to the memory of Pierre Boulez who died earlier in the week and influenced him in his early career.
I saw this performance January 10, 2016, at the Barbican in London.
The two performances in London have been recorded and we can in the near future expect a release of the opera in the LSO live series.
When I met Sir Simon last year in Berlin I did ask him if he was hoping to devote more time to opera when he leaves the job at the Berlin Phil next year?
"I think there will be a bit more time for opera and I already have a very close relationship with the Staatsoper here,  Daniel Barenboim's opera. I also had a wonderful time doing the Ring in the Deutsche Oper and I will return to do Manon Lescaut when I leave. I think there will be a chance to do a little more, but I think over the next period of my life  has to be, apart from the LSO, mostly at home here, [in Berlin]. So that Magdalena can have her great years of singing. But also so that I am here watching my children  grow up. So I think there will be very little guest conducting in the next years. Of course here with the Phil I will come back regularly. But outside my job in London I will mostly try to stay in Berlin. "