Year on year you struggle to purchase the tickets to the Chelsea Flower Show. Right? When you've finally made it to that most prestigious floral show in the English social calendar,  you wish you could crane your neck like a heron. What a palaver it can be to just  get a glimpse of one of those gold medal winning gardens in pushy posh Chelsea !!
No thank you please, I'd rather be up the creek (the river Thames) without a paddle at the laid back Hampton Court Palace Flower Show (4-10th July), any old day. Here you still get a sense that gardening is for fun and not just a competition with a seal of Royal approval.
I am no horticultural expert and my own garden is modest, if not to say reductive (but it has potential). My own mediocrity in this respect, makes every floral arrangement at Hampton Court  in comparison an ikebana masterpiece.
Hampton Court is more enjoyable than the Chelsea show because everything feels more accessible and relaxed. For starters  there is much more room to move and roam (34 acres). You can buy lots of  machinery and tools that are actually useful in the garden. Then there is the picnic enclosure and it helps that the setting for the show is pretty spectacular with the great Tudor/Baroque Palace and its magnificent gardens looming up in the distance from various vistas.
Here are some of my personal highlights from this year's floral fest:
Right by the Thames Gate entrance is the Butterfly Dome. Inside the 'hothouse' the climate is tropical because the butterflies have been sourced from Belize and (mainly) Indonesia. The South American Blue Morpho is quite spectacular with a wingspan that easily covers your hand. Not that you are supposed to touch the butterflies, but they have a habit of landing on you. So this is not an experience for the squeamish. Outside the dome there are a number of typical English plants to attract native species of butterflies and caterpillars.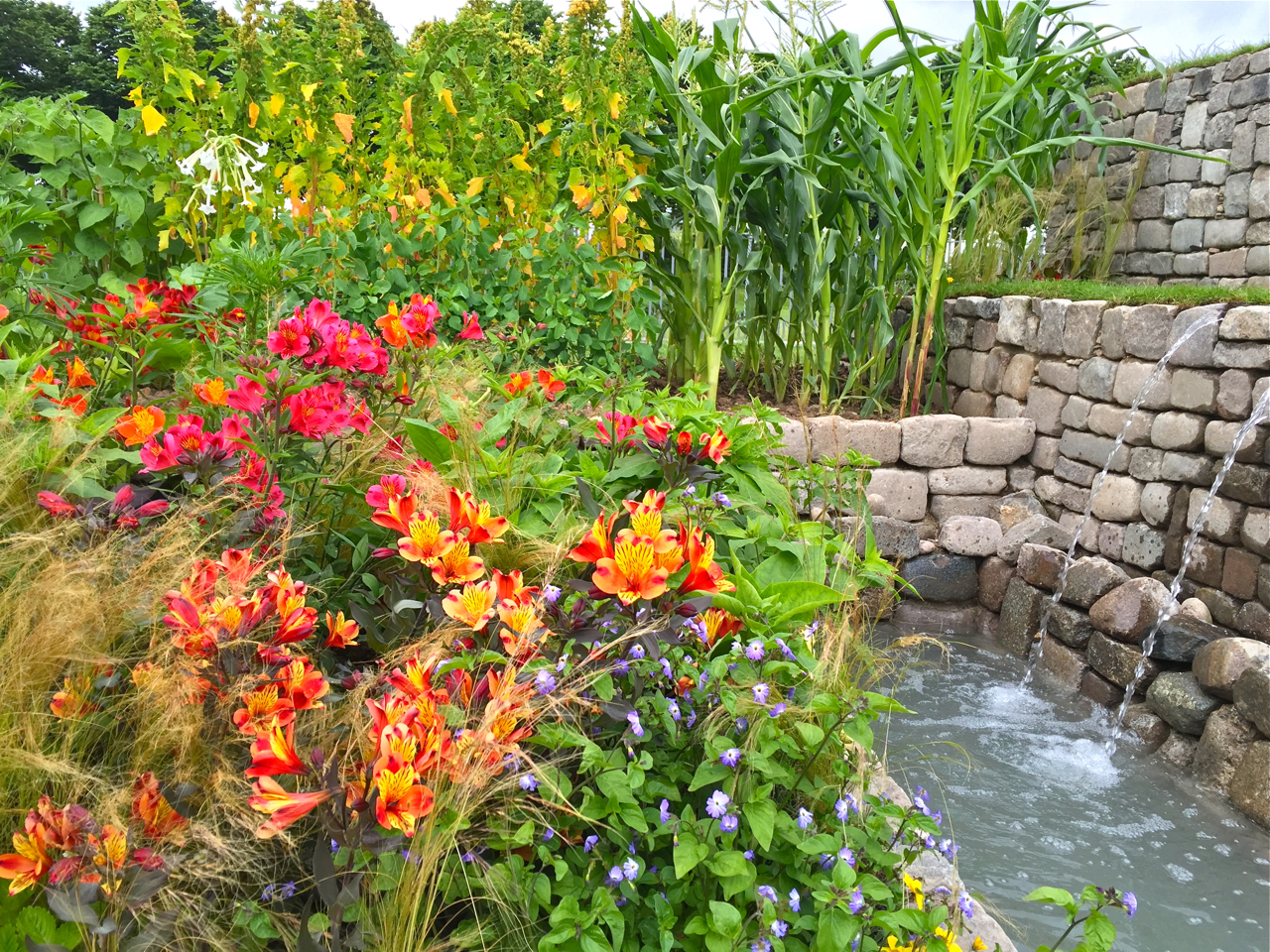 Next up are the Feel Good Gardens. My favourite would have to be the Inca Garden, which tries to evoke the horticultural experience that the explorer Hiram Bingham might have had when he discovered the "lost" citadel of Machu Pichu in 1911. I am not sure the American adventurer was there for the plants, but the three-tiered terrace with genuine looking stone walls, tropical foliage and some typical Inca crops (maize, potato and quinoa) does convey a harmonious spirit that at least would have pleased the Inca goddess Pachamama (Mother Earth).
Look out for the various Alstroemeria , or Peruvian lilies.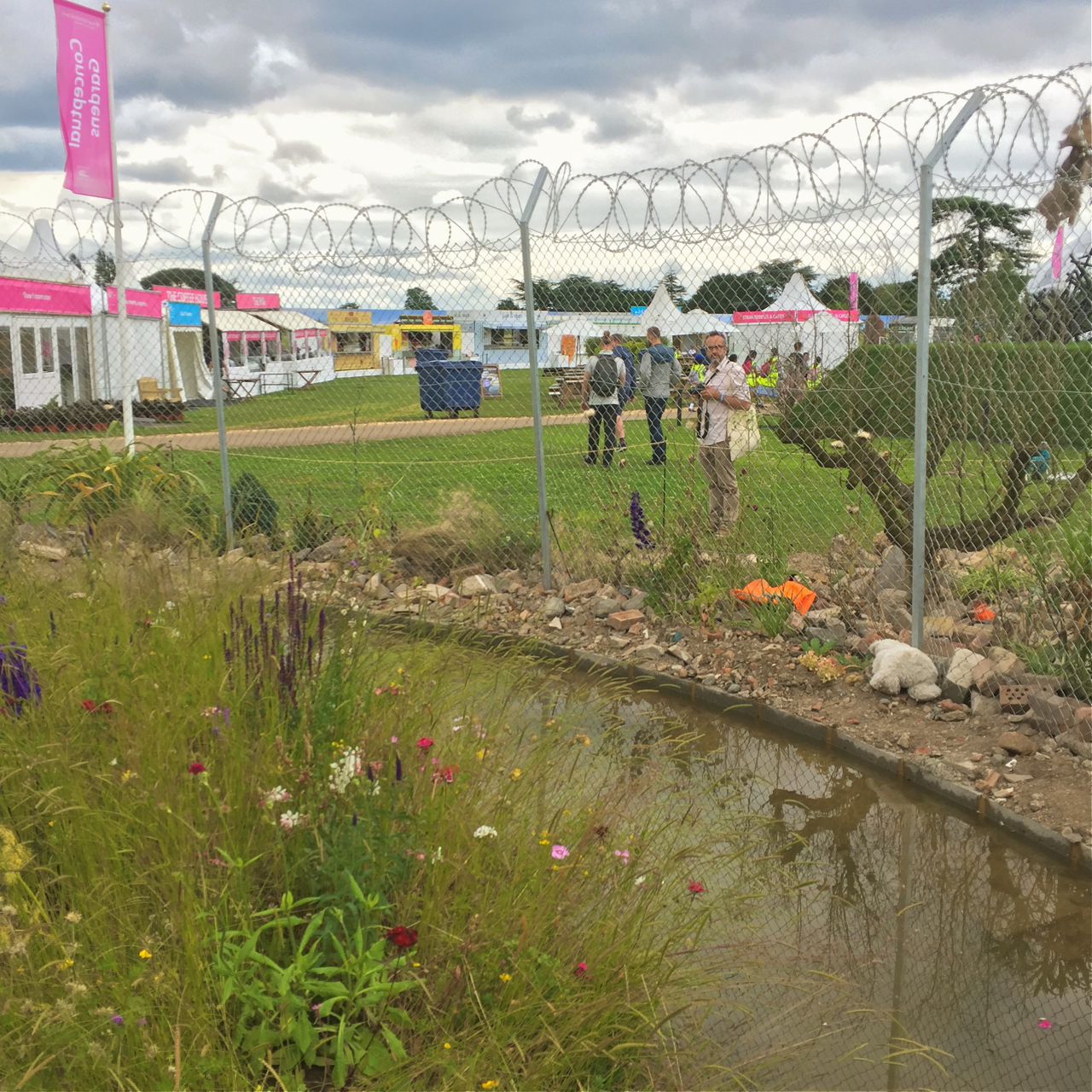 The Conceptual Gardens are meant to be thought provoking but some are more bizarre than mind blowing. The judges picked 'Border Control' as the Best in Show in this category and it certainly is the most interesting concept.
The motto could be: " A weed is a flower growing in the wrong place" (a quote by George Washington Carver who was a botanist born a slave). The brochure describes the concept thus: "a wildflower meadow sits within a treacherous moat, bordered by a razor wire fence and accessed through a tightly controlled crossing. At the centre of the oasis a shelter provides protection."
A British horticulturalist will immediately spot that some of the prettiest flowers in the wildflower meadow are not natives species and therefore must have blown in from the "outer zone". Yes, they are immigrants of a sort but they seem to have assimilated very well. Hmm yes, I get the drift of the two designers but for some reason I am reminded of the (graffiti artist) Banksy's, at times rather crude, political concepts that he last year constructed at his misery park Dismaland in Weston-super-Mare.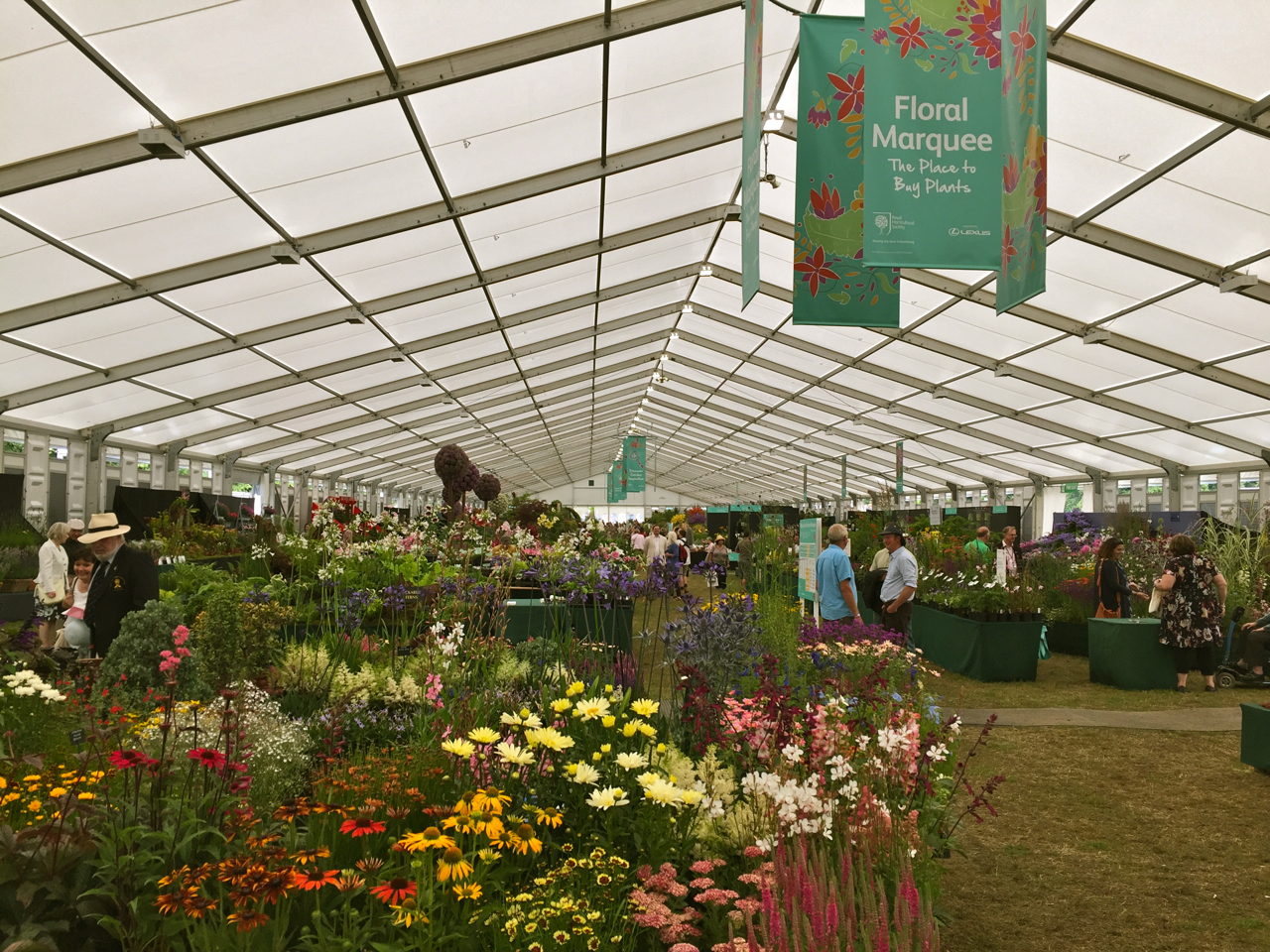 The Festival of Roses is good without being exceptional, whereas the seemingly endless Floral Marquee is a must for anyone looking for ideas for their own garden. At both these venues and the Plant Village you can purchase everything you see.
Over the last few years it seems to have become popular to cultivate wildflowers and this year I notice a growing preference for Cyathea Brownii (the Norfolk tree fern from Australia) which thrives in this country as well.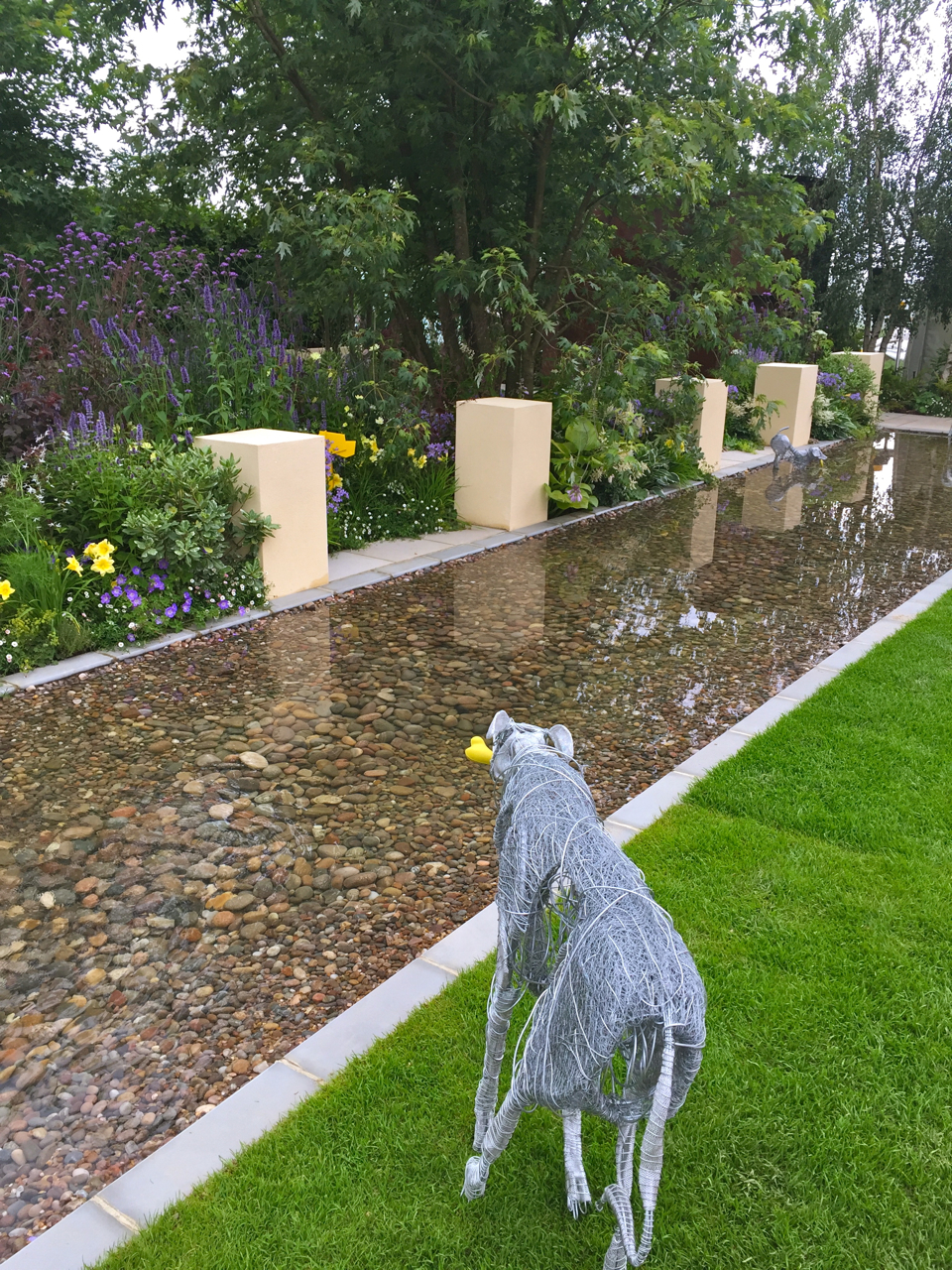 The absolute highlights of this flower show are the Show Gardens. Apparently there are seven different categories but what I particularly like is that you here can get close up to the plants. These displays are also realistic in the sense that you could achieve something similar at home without spending an absolute fortune (to be honest, there are a couple of exceptions).
The Dogs Trust: A Dog's Life, designed by Paul Hervey-Brookes tops my list. It is all kept fairly simple with lush and lusty verdant green interspersed with purple, yellow and white flowers. A rectangular water feature is paralleled by a grass gangway while the natural display is broken up by some quirky dog sculptures.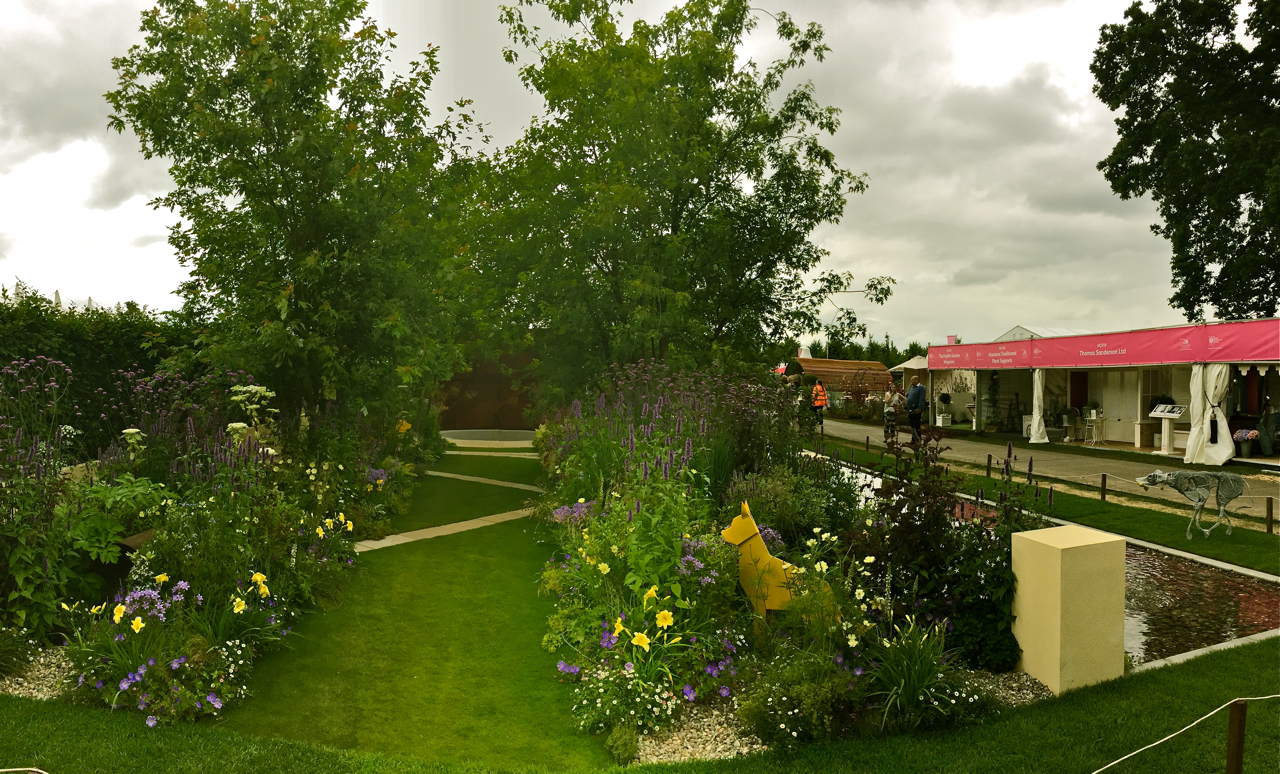 I am not sure if any of Shakespeare's plays were performed at Hampton Court Palace during his lifetime but Will was a member of the King's (or the Lord Chamberlain's) Men who performed for both Elizabeth I and James I.
All The World's A Stage transforms Jaques' speech from As You Like It into a garden that can be enjoyed by all. Yes, this is a mini park that you may enter and immerse yourself in. Take a seat under the tree glades and enjoy the live performances that are given here on a regular basis. Alternatively reflect upon your own image in one of the seven basins that together with the plants represent our journey through life.
"Now would I give a thousand furlongs of sea for an acre of barren ground: long heath, brown furze, anything."
Gonzalo, Act I, scene I, The Tempest.