BBC Proms Saturday 14 August 2021 S.Prokofiev Symphony no.1,  J.S.Bach Keyboard Concerto in F minor, BWV 1056, W.A. Mozart Piano concerto no.24, D. Shostakovich Symphony no.9
BBC Proms Saturday 14 August 2021 S.Prokofiev Symphony no.1,  J.S.Bach Keyboard Concerto in F minor, BWV 1056, W.A. Mozart Piano concerto no.24, D. Shostakovich Symphony no.9
With the Philharmonia Orchestra's new principal conductor Santtu-Matias Rouvali unavailable, due to the government's quarantine and testing requirements (he is mainly based in Finland and Sweden), a reserve conductor had to be found with less than a week to go.
I'm sure Rouvali will prove to be a marvelous addition for the venerable London orchestra in the near future, but the 'super-sub' that was brought in is in a different league. Paavo Järvi is an outstanding conductor with an air of old-fashioned poise and natural authority. Could he be the Royal Concertgebouw Orchestra's next chief conductor?
Prokofiev's 'Classical' Symphony will be very familiar territory for Järvi, but there was not a trace of routine about this performance. The allegro was swift, pert and slightly coquettish. The larghetto had a lightness of touch that made the musicians appear to levitate above their seats. The gavotta was perfectly danceable, quite slow, in a baroque kind of fashion and even though it perhaps to the original audiences sounded deliberately 'clumsy' (because of the uncoventional musical progressions), in my modern ears it sounded more 'bumkinish'and full of haydenesque humour. The finale sounded like a super fast jolly ride that was sure to end in victory. The flute part (often given as an audition piece) in the 4th movement is technically fiendishly difficult, but principal flutist Charlotte Ashton nailed it perfectly.
Víkingur Ólafsson was one of this Proms season's most anticipated soloists and this was also the Icelandic pianist 's festival debut. Many people have been watching his regular online solo concerts from Reykjavik during the lockdown.  This explained the rapturous welcome that he received in a nearly packed Royal Albert Hall (finally, it has looked half-empty for many concerts so far). Ólafsson may dress like your private wealth manager, but his playing is honest and always neat.
He totally ignores the early music movement's progress and his take on Bach is unashamedly romantic, including a lot of pedalling. I am in his camp and don't particularly like the mechanical sound of the harpsichord, particularly not as a solo instrument.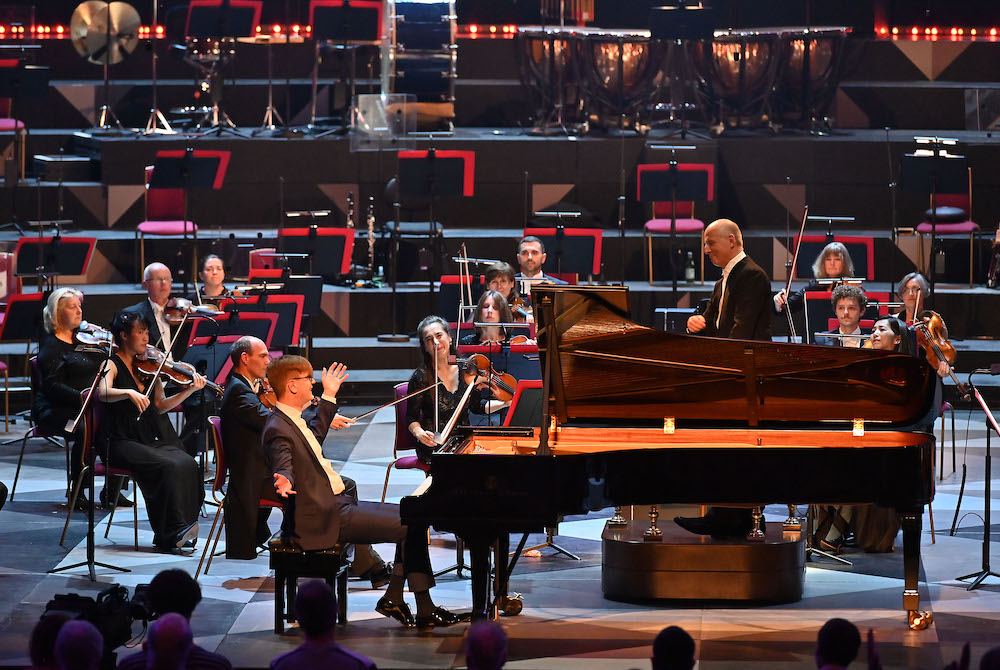 Johann Sebastian Bach's Keyboard concerto in F minor was written for Collegium Musicum, a university society that gave weekly concerts in the coffee house Café Zimmermann in Leipzig. Despite the fact that the opening movement is clever, with its chromatic use of the returning theme, it can feel a bit like tracking the Bach family index on the BFSE (Bach family Stock Exchange). Of course it wouldn't have sounded anything like this 280 years ago. This is intricate stuff. And the way Ólafsson approached the 2nd movement's largo would have taken the composer by total surprise.
First of all the extremely quiet and delicate phrasing that Ólafsson displayed would have been impossible on a harpsichord. This was ol'school, romantic, contemplative playing and I got a sense of sacred wilted flowers. Yes, I'm not sure what that means, but Ólafsson added a religious touch to a secular piece. The plucked basses and soft pizzicato string accompaniment gave it at times even a jazzy feel. I have never heard any other pianist attempt to play so softly in this great hall and you could have heard a coffee bean drop.
It wasn't just a gimmick because it made the final presto movement feel lika a battle of wits between Ólafsson and the Philharmonia Orchestra.
Bach is any serious musician's House God and the Old Testament of classical music. There are many different interpretations of the Old Testament but who in the end gets to decide which interpretation is right? This was a pure Godsend.
After the interval Ólafsson returned to play Mozart's piano concert no.24 in C minor K 491 (1786). One of Mozart's rare piano concerts composed in a minor key, but it is also a piece with a lot of very satisfying orchestra work for oboes, bassoon, clarinets and bassoon. There is some marvelous interplay between the pianist and those instrumentalists. While writing this concert was very busy with a number of operas including The Marriage of Figaro. The intro K491 could easily have worked as an overture to an opera. The soloists entry is tentative, but the mood is clear right from the start. A melancholy and a sadness must be expressed and the orchestra is in on the act. Ólafsson shows academic restraint, but after finishing a longer passage he will swing his upper body towards the orchestra and lift his arms as if to say: your turn! Ólafsson plays his own cadenza, but I have heard more convincing ones.The opening allegro was an important inspiration for Beethoven's C minor piano concerto.
It is in the larghetto, the slow movement, you get a sense of how deeply felt this material touches Ólafsson. We heard Mozart the pre-romantic. The interplay between Ólafsson and the wind instruments was exquisite, delightful, but this remains very dark writing for being Mozart. The finale
The finale is built around theme and eight variations. With the woodwinds leading the way. The mood almost changes and gives a sense of hope, with a switch to major, but no luck, in the end there is a sense of bitterness. This was a splendid performance by Ólafsson, but less exceptional than the Bach.
We were treated to two encores and first came a transcription of the second movement of an organ sonata by Bach and then a Liszt transcription of a Mozart piece. Once more he achieved absolute transcendence. We can be sure that Ólafsson will be back at the Proms.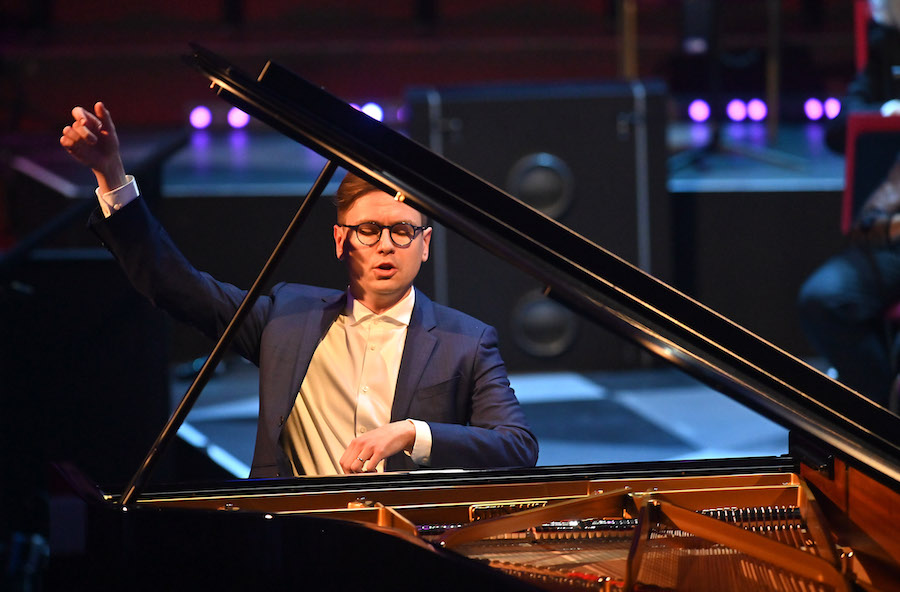 While the Soviet troops were driving the nazis back into Germany Shostakovich started work on his Ninth symphony (1945) which was going to celebrate the 'Great Victory'. Authorities expected something in the vain of Beethoven's ninth. But for some reason Shostakovich decided to take the mickey, well almost. That's how many listeners saw it. The work seemed more like a buoyant satire with a fanfare, 'farting ' trombones and a number of passages that sound like circus music.
But in the fourth movement, the largo , the composer realises that he's gone too far and turns plaintive. Mournful winds and a long suggest bassoon solo suggests that every victoory has its downsides. But hold on, the bassoon suddenly goes all folky and the rest of the orchestra joins in and the mood turns cheerful again. No, not cheerful, but a rather desperate sense to create joyful celebration after half a decade of destruction and mass murder.
Paavo Järvi is of course Neeme Järvi's son and this is the reason why he as a boy met Shoshtakovich. They did not exchange notes about the Ninth symphony, but Paavo studied the work at the Leningrad Conservatory. The dark layer or undertone only comes to the fore in the largo and, yes, you can feel the nervous, towards the end nearly hysterical cheerfulness. But this remains , in my mind, quite an unsatisfying work, but I feel that Järvi and the Philharmonia presented this 'musical mischief' as well as I have ever heard it played. It was in the Shostakovich it became more than clear that Järvi was an ideal sub for Rouvali, who could not have gotten more out of this splendid orchestra.
The Philharmonia's principal bassoonist Emily Hultmark deserves a special mention. She was the magnificent, superb soloist (subtly accompanied by violas)in the Ninth and also made me aware of the bassoon part in the Mozart. I give this concert nearly five stars, nine points!