This is my second report from TEFAF Maastricht, the world's foremost art fair for antiques and design. In my previous blog I mentioned a number of blockbusters, both quality- and price-wise. In this article I am concentrating on some personal favourites.
What is so extraordinary about TEFAF is that there is something for everybody to admire, all under one roof. You can invest in a large neolithic axe blade that is at least 5000 years old or splash out on a panorama of Paris, circa 1810 ( Galerie Perrin). Then there are the many 'exotic' objects.  Exotic is now a virtually 'verboten' word but I don't mean anything condescending by it. Exotic to me is an item that is so far removed from my own cultural experiences that it makes me extra curious.
The colourful, beaded dolls that feature in initiation rituals when Tsonga s (South Africa) and Lesotho girls get married are meant to encourage fertility. After the wedding these 'toys' are initially treated like a baby, until the newly weds conceive a child. If the child is a girl, she gets to play with the N'Wana (meaning child). I would feel a bit uncomfortable about owning one, but they are very decorative (seen at Bernard de Grunne).
I wouldn't mind owning a Renaissance sword of the caliber that Peter Finer has on offer. I have visited the impressive Rüstkammer in Dresden and seen some of the most incredible swords and field armour worn by Emperors, Dukes and Counts. This weapon with a blade and grip made of steel, copper alloy, gold, silver, ebony and bone (restored) is of such fine quality that it should be in a major museum (perhaps the Wallace Collection or Royal Armouries museum in Leeds?). I can't divulge the price, but you will get a four-bedroom detached house in the best parts of Ealing for the price of this sword. Peter Finer also boasts a finely decorated and unusually large German field armour made for the Duke of Brunswick-Wolfenbuttel. Nobody messed with him when he wore this, to be sure.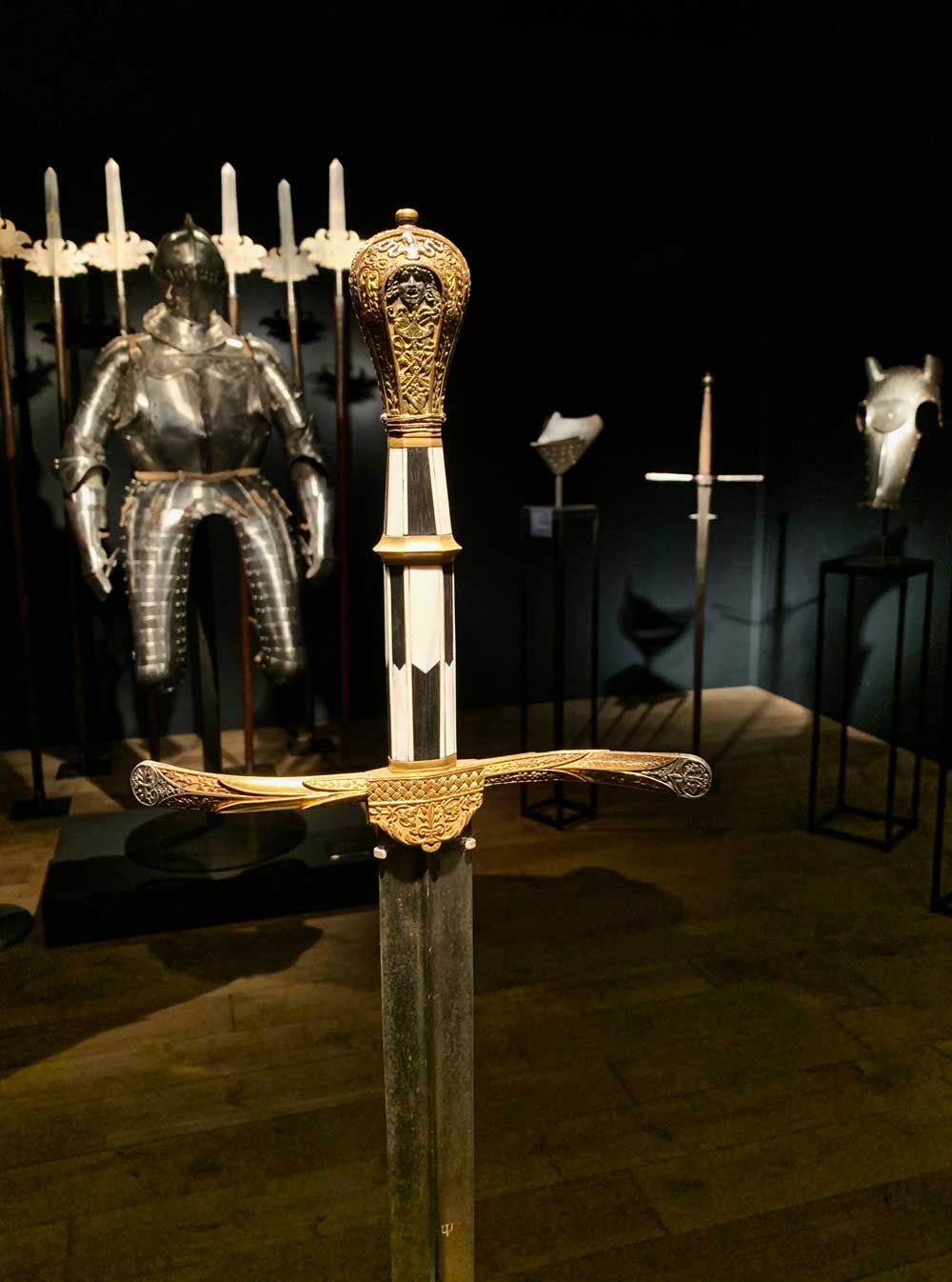 If it is sculpture you're after, the portrait bust of Georges Mareschal is one of the absolute highlights of the show. François Girardon (1628-1715) created many famous works for the garden of the Palace of Versailles. His equestrian statue of Louis XIV in Roman armour is also pretty famous (the colossal original stood in Place Vendome and was destroyed during the revolution in 1792). This marble bust of the  premier-chirurgien du Roi is so detailed and skillfully made (1700 -1710) that it looks like a lifecast. The extravagant wig leads a life of its own and the sideways turn of the head provides a sense of movement that only the very best sculptor could achieve. Mareschal is portrayed so vividly that I feel like asking him how he would have handled the coronavirus crisis. Stuart Lochhead Sculpture hope to achieve 2.6 million euros for this masterpiece.